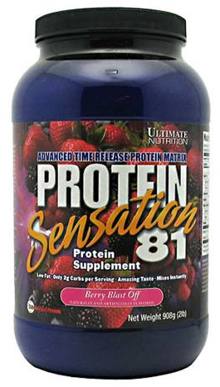 Ultimate Nutrition Protein Sensation 81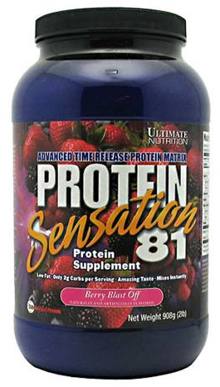 Ultimate Nutrition Protein Sensation 81
Swipe left/right to reveal product information
Product Highlights
Only 2g Carbs per Serving
Advanced Time Release Protein Matrix
The importance of protein in nutrition and health cannot be overemphasized. Proteins are essential nutritionally because of their constituent amino acids, which the body must have in order to synthesize its own variety of proteins and nitrogen-containing molecules that make life possible. Protein is probably the most important supplement for all athletes, but it is especially indispensable for those involved in long-term, high intensity endurance training.*
Because of this, many of us use a protein powder. Whey protein has been the most popular choice because it is inexpensive and is absorbed fast. However, this strength is also its weakness. Whey is absorbed so fast that it's fully digested in approximately 90 minutes. Your body can only use so much of the amino acid surge that follows the ingestion of whey. Because you're getting a big intake of amino acids immediately there maybe no amino acids left over to nourish your muscles and keep you in positive nitrogen balance in the hours leading up to your next meal.*
Which means that after your muscles get their initial fill of amino acids, you could go catabolic in the hours that follow. What you need then, is a protein source that is broken down and absorbed slowly. This type of protein source should provide amino acids to your muscles for hours, so that your muscles don't starve in between meals. To get around this problem Ultimate Nutrition developed a time-release protein to fuel your muscles with amino acids.*
A protein blend consisting of multiple sources of protein is superior to any single-protein source, including whey, for sustained time-release nutritional support. Protein Sensation 81 is made with NitroPro7; Our unique protein blend, consisting of Premium Ultra and Microfiltrated Whey Protein Concentrate, Undenatured Milk Protein Concentrate, Micellar Casein, Undenatured Egg White Albumen, Pure Bioactive Whey Protein Isolate, Partially Hydrolyzed Whey Protein, and Calcium Caseinate.*
Whey proteins such as hydrolyzate, isolate and concentrate give your body a surge of amino acids immediately after you consume them. These proteins stimulate protein synthesis and make them great for lean muscle growth.*
Then the mid-release proteins take over. Egg protein is considered the most perfect source of protein because it is complete in essential amino acids, branch chain amino acids and glutamic acid. It is completely and easily absorbed by the body.*
Protein such as micellar casein, calcium caseinate and milk protein concentrate take much longer to digest and can be considered the extended release proteins, lasting up to 6 hours, thereby giving the body more time to fully digest and absorb those nutrients.*
This makes these milk proteins ideal for use as an evening protein shake also. Milk Protein concentrate is made up of both whey protein and casein. It offers the best of both worlds. Casein is much more effective at preventing muscle wasting than whey. Calcium caseinate also contains over three times the levels of calcium as whey, making it a valuable component to boost calcium levels in your body.*
A more complete source of protein means you'll enjoy faster lean muscle gains and quicker recovery after workouts. Time-Release means continuous protein nourishment of your muscles throughout the day and also before bedtime when your body works it's hardest to recover!*
Protein Sensation 81 is low in fat and carbs, and mixes instantly. Protein Sensation 81 is available in 3 mouth-watering flavors; Iced Vanilla Cream, Chocolate Truffle, and Berry Blast Off.
Protein Sensation 81 Frequently Asked Questions
Who benefits from protein?
Protein is an important nutrient needed by everyone on a daily basis. It is made up of essential and non-essential amino acids, which are the "building blocks" for healthy bodies. Protein has a number of different roles in the body including repairing body cells, building and repairing muscles and bones, providing a source of energy, and controlling many of the important processes in the body related to metabolism. Whey protein is a high quality, complete protein, with all the essential amino acids. Whey protein is also the richest known source of naturally occurring branched chain amino acids (leucine, isoleucine and valine). These are important for active individuals, individuals who exercise and professional athletes. Many athletes consume a whey beverage both before and immediately after exercise or an event to help repair and rebuild lean muscle tissue.*
Does whey protein boost immunity?
Yes. Whey protein is superior to other proteins in its property to boost immunity by increasing the body's own antioxidants. Ultimate Nutrition's Protein Sensation 81 is isolated by a complex low temperature processing system to retain immune boosting proteins which include B-Globulin, A-Lactalbumin, Glycomacropeptide, Immunoglobins and, among others, Lactoferrin. All constituents in this category inherently boot the immune system.*
Why are BCAAs beneficial?
BCAAs (Branched Chain Amino Acids) comprise of 1/3 of muscle tissue and are the first amino acids to be catabolized due to intense exercise. Therefore, dietary BCAA supplementation is particularly important for hard-training individuals looking to maximize their muscle gains. The body requires higher amounts of branched chain amino acids during and following exercise as they are taken up directly by the skeletal muscles versus first being metabolized through the liver, like other amino acids. Low BCAA levels contribute to fatigue and they should be replaced in one-hour or less following exercise or participation in a competitive event.*
References:
Bounous G, Gervais F, Amer V, Batist G, Gold P. The influence of dietary whey protein on tissue glutathione and the diseases of aging. Clin Invest Med (1989 Dec) 12(6):343-9.
Kennedy RS Konok GP Bounous G Baruchel S Lee TD. Whey and Cancer. Anticancer Res (1995 Nov-Dec) 15(6B):2643-9.
Kent KD, Harper WJ, Bomser JA.. Effect of whey protein isolate on intracellular glutathione and oxidant-induced cell death in human prostate epithelial cells.. Toxicol In Vitro. (2003 Feb) 17(1):27-33.
Middleton N, Jelen P, Bell G.. Whole blood and mononuclear cell glutathione response to dietary whey protein supplementation in sedentary and trained male human subjects. Int J Food Sci Nutr. (2004 Mar) 55(2):131-41.