Quick Links to Our Prices
33.8 Oz.
(Buy 1 Get 1 FREE) Price History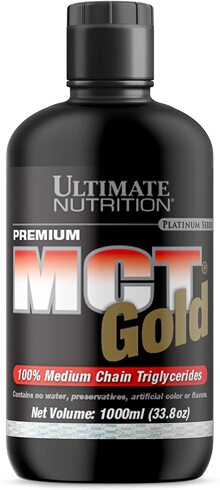 Ultimate Nutrition MCT Gold
MCT Gold
Many people think that well-developed muscles are evidence of physical fitness. Firm, toned muscles are considered esthetically pleasing, and hundreds of thousands of people spend untold hours to appear "muscular." Their appearance notwithstanding, muscles are specialized tissues that contract to produce body movement.
MCTs are unique because, in the presence of carbohydrates, they can be turned into energy inside the mitochondria, the powerhouses of energy production in the cell. Conventional fats can be burned only after the carbohydrate reservoir of the cell has been depleted. This has important implications in that the burning of MCTs in the presence of carbohydrates spares glycogen and, hence, production of ketones. Both prolong endurance for training and stamina.*