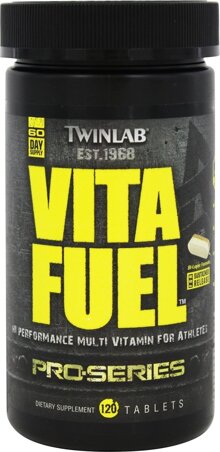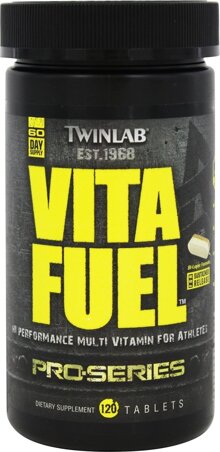 TIMING IS
EVERYTHING
TARGETS:
BIO:
ARSENAL:
Sustained Release Nutrients, Comfortable Digestion
Forget one and done multivitamins that deliver a slug of nutrients all at one time...your body simply eliminates what it can't absorb. Vita Fuel is an advanced bi-layer tablet formulated for sustained release. A rapid dissolve layer speeds delivery of minerals and digestive support.* A sustained layer releases fat and water soluble vitamins over a prolonged period of time. We use a special buffered iron for more comfortable digestion.*
WASTE NOT, WANT NOT
As a high performance athlete striving to get the most out of every rep and every tick of the clock, wasted effort is simply not an option. It's time to expect your multivitamin to deliver to your same demanding expectations. Made in our own NSF for Sport facility, Twinlab ProSeries Vita Fuel raises the bar for what is possible in a multivitamin/multi-mineral.*
Our bi-layer technology is formulated to address arguably the two biggest problems with typical multi-vitamins: overloading the body with more vitamins than it can absorb at any one time and discomfort caused by certain ingredients being delivered too much, too fast. By embedding water soluble nutrients in exacting quantities in both the fast and slow release sides of our bi-layer tablet, we can control the release timing to help ensure cells are continuously "bathed" in the fuel they need to function at their peak.*
Our technology lessens the impact of stomach upset caused by delivering a single "mega-dose," interrupting your high performance training output. Additionally, we use a special buffered form of iron – one of the most common culprits – to help alleviate stomach comfort and deliver the quantity of nutrition your body needs without sacrificing quantity or quality.*
Start getting as much out of your multi-vitamin/mineral as you put into your training with new Twinlab ProSeries Vita Fuel.