Warning: This product is not currently available at any store.
Click the button above and PricePlow will email you when the first store has it in stock!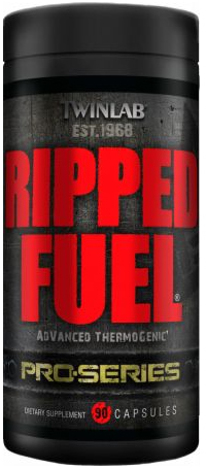 Twinlab Ripped Fuel Pro-Series
THE NEW
DEFINITION OF
DEFINITION
TARGETS:
BIO:
ARSENAL
Ripped Abs, Extreme Definition, Advanced Thermogenic*.
Inspired by the powerful experience delivered by the original formula, new Twinlab Ripped Fuel ProSeries features scientifically engineered ingredients that make this one of the most intense thermogenic support products on the market*.
Dendrobium, Chocamine, Astragin, Advantra Z Citrus Aurantium (Synephrine), Capsimax, Diiodotyrosine, Bioperine
THE BEGINNING OF A MOVEMENT
Twinlab began out of a humble garage over 45 years ago and went on to pioneer the emerging sports nutrition movement. In those exhilarating early days, it felt like anything was possible; that you were part of something truly special. Looking back, as history and the growth of our lifestyle has proven, it turns out that feeling was right.
Back then, you were cast as an outsider...someone obsessed with transforming their body to be better, stronger, different; striving for perfection and breaking through your own personal limits of greatness. It didn't compute to "civilians," but that's the way it was and we still like it that way today. To those that were there -- to those that Got It – we were creating a global revolution for future generations.
Out of a stream of legendary Twinlab products, perhaps one stood at the top: Ripped Fuel. If you're old school, you likely have your own Ripped Fuel story – whether it was helping you get ripped for spring break, prepping for your first show or giving you the energy to get through school, Ripped Fuel is remembered with a crooked smile by a generation. If you used it, you understood and still remember that feeling today.
THE LEGEND, REINVENTED
Fast forward to present day where seemingly every new brand tries to steal a piece of our heritage by simply adding "Fuel" to their product name or description. They'll learn what the insiders already know: shortcuts never win. You can't buy a legacy, you have to EARN it.
Inspired by the powerful experience delivered by the original formula, new Twinlab Ripped Fuel ProSeries is reinvented with a scientifically engineered, high intensity line up of powerhouse ingredients that make this one seriously powerful thermogenic: Dendrobium, Chocamine, Citrus Aurantium, Yohimbine HCL, Astragin, Capsimax, Diiodotyrosine, Bioperine and more.
In the true Twinlab tradition, there's no outlandish promises of greatness that you'll never actually see, but when you're ready to reach the next level know Ripped Fuel ProSeries is back to its roots and the real deal. The One True Fuel starts with Twinlab.