Quick Links to Our Prices Price History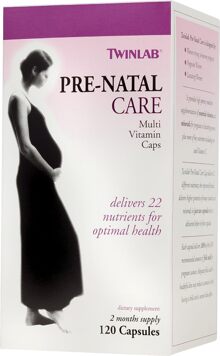 Twinlab Pre-Natal Care Caps
delivers 22 different nutrients; the new improved formula delivers higher potencies of many vitamins and minerals in just two capsules than it delivered before in four capsules.
Twinlab Pre-Natal Care is designed for:
-Women trying to become pregnant.
-Pregnant Women.
-Lactating Women.
-It provides high potency nutrient supplementation of essential vitamins and minerals for pregnant or lactating women, plus more of key nutrients including iron and Vitamin C.*
Twinlab Pre-Natal Care is available in capsule form rather than tablet form, so they are easier to digest. Twinlab Pre-Natal Care does not contain tablet binders, coatings, or colorings. Free of fish, fish oils, wheat, yeast, barley, rice, lactose (milk sugar), milk and egg products. No added sugars, sodium, artificial colors, sweeteners or preservatives.
The iron in Pre-Natal Care is Ferrochel. Ferrochel is a unique form of chelated iron formulated for maximum absorption without occasional gastrointestinal irritation or the constipating effects that often accompany iron supplementation.*