Warning: This product is not currently available at any store.
Click the button above and PricePlow will email you when the first store has it in stock!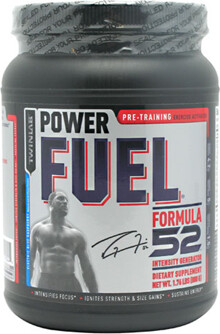 Highlights:
Intensifies Focus*
Ignites Strength & Size Gains*
Sustains Energy*
Promotes Pump*
Boosts Performance*
Fights Fatigue*
Electric Blue Raspberry Flavor
How It Works:
Inspired by the passion of legendary football star Ray Lewis, this pre-training formula is designed to help get you in 'the ZONE' – the perfect intersection of intensity, strength, stamina, focus and electric energy that helps you achieve a maximum state of peak performance.* Become POWER FUEL.
Power Fuel Contains:
Formula52 Intensity Generator: The heart, soul and passion of the Power Fuel formula, Formula52 is packed with a proprietary blend of Nitric Oxide precursors and facilitators to help stimulate pump, clinically tested fatigue-fighting agents Beta Alanine, Caffeine and a Taurine to aid performance and focus.*
Strength & Power Activator: Creatine is one of the most highly tested of all sports nutrients and is well known to help fuel strength and size gains.* Power Fuel uses a fusion of FIVE different creatine sources to help promote size and strength gains plus glutamine peptides, a form of glutamine that is a peptide (a bonded chain of amino acids), which is believed to provide more efficient transport to muscles.*
Sustained Energy Matrix: A smarter energy system, our advanced energy blend was originally created for use with championship Twinlab endurance athletes. It's a unique combination of four different carbohydrates that are absorbed sequentially, one after another like a relay race, to provided sustained fuel versus spike and crash sources of carbs.*
Fuel Management System: The intensity, strength, stamina, focus and electric energy…The Zone. It can only happen if your systems are functioning at their peak. The Fuel Management System works to help get you primed and ready for truly intense workouts: Replenish vital electrolytes lost through perspiration, infuse B-vitamins to increase metabolism and help turn food into energy, and patented Cinnulin PF.*