Warning: This product is not currently available at any store.
Click the button above and PricePlow will email you when the first store has it in stock!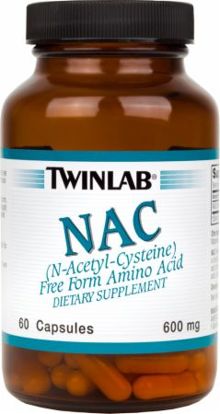 Maximum Strength 600mg NAC per serving
Antioxidant support*
May help reduce muscle fatigue*
Amino acids are essential to the human body. Bodybuilders can especially benefit from supplementing amino acids because they aid in the recovery, growth, and development of muscle tissue.* The body, through assimilation of amino acids, produces over 50,000 proteins and over 15,000 enzymes. Amino acids are not only responsible for the production of all the body's enzymes (including digestive enzymes), but they also play a key role in supporting mood, concentration, attention, sleep, and sexual health.*
After protein is consumed, it is broken down into amino acids. Then, individual amino acids are used to create necessary body proteins and enzymes. Digestive enzymes break down the proteins a person consumes into amino acids. Scientists, experts, and medical professionals agree that getting enough amino acids in one's diet is an important factor in maintaining good nutrition.*
Twinlab's NAC Fuel is an excellent free form amino acid. NAC, or N-Acetyl-Cysteine is a precursor of Glutathione in the body and is protected and sulfur-containing. NAC comes in capsules that are easier to swallow than many other tablets or pills and easily assimilate.