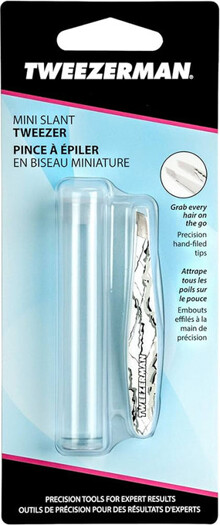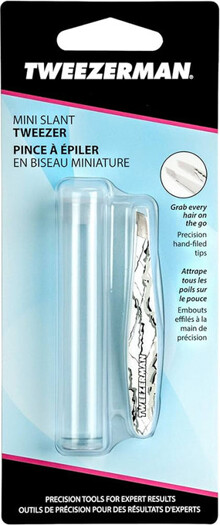 Tweezerman - Mini Slant Tweezer
Tweezerman Mini Slant Tweezer grabs every hair, every time. Famous for its precision, the Slant Tweezer features perfectly aligned hand-filed tips for expert brow shaping.
25-degree slanted tip is the perfect angle for achieving high definition brows like a pro
Top eyebrow artists recommend its famous, unmatched quality for expert brow shaping
Superior calibrated tension and perfectly aligned, hand-filed tips ensure these tweezers close evenly and firmly to precisely grip hair - creating the cleanest, smoothest, most advanced pulling power every time
Stainless steel tips are durable and easy to clean
Tool Tips
To ease tweezing, take a hot shower or use a warm washcloth to open pores. Tweeze in the direction of hair growth to avoid breakage. To close pores post tweezing, use cold water or astringent. For expert results, never yank or tug on brow hairs - always use the Slant's precision tip to isolate, lift and then grab the hair from the root. Effortlessly pull using one smooth motion in the direction of hair growth. This not only helps avoid breaking the hair, it's gentler on your skin. When you smoothly glide each entire hair out, broken stubble and "black dots" won't be left behind, instead you create a flawless, expertly shaped, clean look. Advanced handling lets you use the very point of the Slant for finer or trickier hairs.
About Tweezerman
Tweezerman has been recognized in the beauty industry for over 35 years for setting the highest standards of quality, reliability, innovation and service with every beauty tool sold.
Featuring cutting edge beauty tools sold through professional beauty suppliers as well as top cosmetic and department stores, chain drug stores and specialty shops, Tweezerman International has been an integral part of parent company Zwilling J.A. Henckels portfolio since 2004 and its created beauty division, Zwilling Beauty Group, since 2012. Tweezerman is the brand headquarters and sister company to a growing and diverse family of international beauty tool brands under the Zwilling Beauty Group umbrella, including: Zwilling Beauty, Tweezerman and QVS Global. While each brand in the portfolio retains distinctive assets designed for different consumer segments, Tweezerman together with its sister brands helps make it possible for the Beauty Group portfolio to achieve category gains while maximizing applications to wider markets, along with cross-selling and broadening opportunities for fostering consumer loyalty across brands.
With their hundreds of consumer-trusted products, Tweezerman and the Zwilling Beauty Group family of brands are associated worldwide with premium quality beauty tools that range from flawless brow grooming, face and lashes to manicure/pedicure, hand, foot and nail care, colors and UV gels, and from cosmetic brushes to precise men's personal care products, along with high quality sets and kits – all varying to include everything from the ultra-affordable to the most luxurious necessities, and together addressing growing and wide-reaching global consumer demand.