Quick Links to Best Prices Price History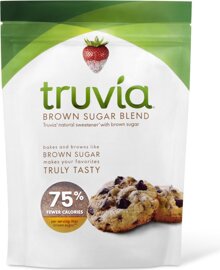 75% Fewer calories per serving than sugar
Natural ingredients
Bakes and browns like sugar
Use 1/2 cup in place of 1 cup of sugar
Truvia Baking Blend is a mix of zero-calorie Truvia natural sweetener (stevia leaf extract, erythritol) and sugar (sucrose). Truvia Baking Blend allows you to reduce 75% of the calories normally in sugar while maintaining sugar-like taste and texture in your recipes.
Sugar plays an important role in many baked goods, such as cookies, brownies, cakes and muffins. When these items are made with Truvia Baking Blend, they will have a similar sugar-like texture, moistness, and spread and brown like recipes that are made with sugar.
Truvia Baking Blend is easy to convert from full sugar recipes. Simply use half as much Truvia Baking Blend as you would sugar. No complicated conversions required.
Recipes