Quick Links to Our Prices
How does this work and how do stores get listed? See our disclosure below to learn more. Price History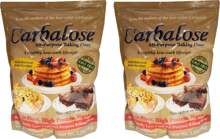 Carbalose Flour can be used in place of wheat flour, but contains 80% less carbs. Use like regular flour in mostrecipes. Carbalose low carb flour is as close to real flour as you can get without being real flour.
Adjustments: Water or liquids may need slight adjustments. Increaseyeast or leavening up to double the original recipe. Drop baking temperatureby 25 degrees F and slightly increase cooking time.
In most recipes, Carbalose behaves like wheat flour, because unlikesimilar products, it is made mostly from wheat, yet it lacks most non-fibercarbohydrates. There are products that claim to be "low carb flour", butthey just don't function as well. They are generally made from soy protein or othernon-wheat components, and are not only difficult to work with, but alsotaste poorly.
Carbalose is made through a unique process and contains enzyme-modifiedwheat, as well as plant fiber, wheat protein and some unique conditioners,enzymes and emulsifiers. Carbalose does not contain any soy protein,sugar-alcohols, dairy, animal-originated, trans-fatty, or saturated fatproducts. Carbalose Flour does contain soy (vegetable fiber).
19 grams of "Net Carbs" per 100 grams (approximately 1 cup).