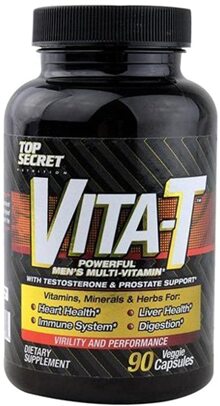 Top Secret Nutrition Vita-T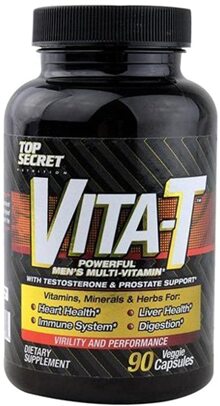 Top Secret Nutrition Vita-T
Upgrade your man card by taking Vita-T, the preeminent men's multi-vitamin and nutrient support supplement from Top Secret Nutrition. Included in this meticulously designed product are vitamins, minerals, and herbal extracts to support the male mind and body. With 7 unique and effective blends, Vita-T focuses on the key areas in the body that make a man a man.
Essential Vitamins And Minerals
Virility, Testosterone And Prostate Support*
Supports Heart Health*
Liver Health*
Prebiotic & Probiotic Digestive Support*
Performance Support*
Men's Antioxidant And Herbal Support*
Essential Vitamins And Minerals
This is the foundation for any quality multi-vitamin. We have designed a well-rounded set of vitamins and minerals to support today's man.
Virility, Testosterone And Prostate Support*
This is where the real differentiation comes into play for Vita-T. In this blend we have combined several effective ingredients to support healthy testosterone levels, the prostate, and sexual health.*
Ingredients include:
Maca Extract 4:1
Eurycoma Longifolia Root Extract 100:1
Horny Goat Weed (Epimedium sagittatum) Extract
Saw Palmetto Berry Powder
Safed Musli 50% Saponins
Boron Citrate
Pygeum africanum bark extract 4:1
Supports Heart Health*
Eating right, exercising, and supplementing with the right ingredients will go a long way toward maintaining a healthy cardiovascular system. Our heart health blend combines six different supplements to help support a healthy cardiovascular system.*
Serrapeptase
Quercetin
Alpha Lipoic Acid
Co Enzyme Q10 (COQ10)
Rutin NF
Artichoke Leaf Extract
Liver Health*
The liver is both the largest internal organ and the largest gland of the body. It performs over 500 functions, including:
Bile production and excretion
Excretion of bilirubin, cholesterol, hormones, and drugs
Metabolism of fats, proteins, and carbohydrates
Enzyme activation
Storage of glycogen, vitamins, and minerals
Synthesis of plasma proteins, such as albumin
Blood detoxification and purification
Due to these important activities, the liver is exposed to a number of insults and is one of the body's organs most subject to injury. For this reason, liver health is extremely important. We have combined four powerful ingredients to help support a healthy liver.*
Chlorella
Prunella vulgaris extract
Turmeric
Milk Thistle 4:1 Extract
Prebiotic & Probiotic Digestive Support*
This formulation was specifically designed to counter the natural reduction in the production of digestive enzymes caused by cooked foods low in nutrients, stress, and environmental toxins.*
Prebiotics are food for probiotics. They stimulate production and enhance the beneficial properties of probiotics. Prebiotics make intestinal pH more acidic, creating an environment that enhances absorption of essential minerals, including calcium, magnesium, iron, and zinc. Several studies in animals and humans suggest positive effects of nondigestible oligosaccharides (NDO), including fructooligosaccharides, on digestion and overall health* 11
Probiotics are the flora (good bacteria) that populate the intestine and are believed to support health. Probiotics can help promote healthy intestinal function and maintain the integrity of the lining of the intestines.*2
Prebiotic - Inulin
Probiotic - Mix PB9-13862 (15 billion CFU/g) .12
Digeseb Super - Contains a proprietary blend of three proteases (I, II, III), plus bromelain, papain and Peptizyme SP for complete digestion of nearly any food product.
Inositol
Betaine HCL
Performance Support*
We naturally recommend taking a specifically designed performance supplement prior to exercise. But there is a benefit to regularly loading your system with lower doses of beta-alanine and agmatine sulfate, not just before exercise. For this reason they are included in this blend.
Men's Antioxidant And Herbal Support*
This blend combines 12 different ingredients ranging from greens to anti-oxidants. Antioxidants are substances that may help reduce the damaging, but normal, effects of the physiological process of oxidation in animal tissue.* When trying to understand oxidation, think of an apple exposed to the air or rusty nails. Unfortunately, no one antioxidant does it all. Therefore, the best approach is to combine several together as we have in this blend.
Spinach Powder
Broccoli Powder
Carrot Powder
Green Tea Leaf Ext
Mixed Carotenoids
Hesperidin
Astragalus
Lutein
Zeaxanthin 5%
Astaxanthin Complex
Scientific References
Dietary fructooligosaccharides and potential benefits on health. J Physiol Biochem. 2009 Sep;65(3):315-28. doi: 10.1007/BF03180584.
The protective potency of probiotic bacteria and their microbial products against enteric infections-review. Folia Microbiol (Praha). 2008;53(3):189-94. doi: 10.1007/s12223-008-0023-0. Epub 2008 Jul 27.