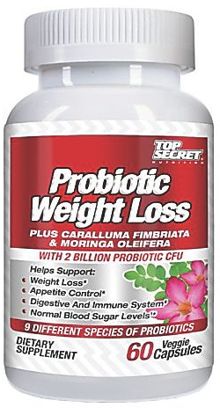 Top Secret Nutrition Probiotic Weight Loss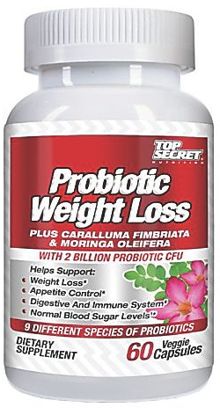 Top Secret Nutrition Probiotic Weight Loss
WITH CARALLUMA FIMBRIATA AND MORINGA OLEIFERA
WHY PRE & PROBIOTICS?
Because healthy gut microflora is the new weapon against fat. Within the last couple of years dramatic scientific evidence has been discovered supporting the influence that human gut microflora has on weight gain and weight loss. Accumulating evidence suggests that the gut microbiota plays an important role in the harvest, storage, and expenditure of energy obtained from the diet.* The composition of the gut microbiota has been shown to differ between lean and obese humans. There is emerging evidence that daily ingestion of probiotics plus prebiotics( Fructooligosacchirides) helps support weight loss.* Additionally, scientists have recently identified that the hormones ghrelin and leptin, both responsible for sending hunger signals to the brain, do not function properly when inadequate levels of probiotics are present in the body. Furthermore, In a new study from the Department of Medicine, Eastern Virginia Medical School, it is suggested that supplementing with pre and probiotics may reverse many of the metabolic effects linked to weight gain and therefore may be a potential target for weight loss.*
ABOUT PROBIOTIC BLEND PB 9-13862
Probiotic Blend PB 9-13862 Is a combination of 9 different species of Lactobacilli , Bifidobacteria and S. thermophiles providing 2 billion Colony Forming Units. Each individual probiotic bacteria is well known to help maintain or restore the natural balance of intestinal microflora. Supplemental PB 9-13862 can help restore a healthy balance of microflora.* The Probiotic bacteria in PB 9-13862 are all gram-positive, lactic acid producing bacteria. The probiotic bacteria in PB 9-13862 create a favorable environment for the growth of "good microflora" in the large intestine. Inulin – This natural dietary fiber is a prebiotic that increases calcium absorption and helps promote the growth of intestinal bacteria.*
WHY CARALLUMA FIMBRIATA?
This edible cactus that grows in Africa, the Middle East, Asia, and India may help support appetite control.* It has been used for centuries by native hunters and laborers to suppress hunger and support stamina.*
WHY MORINGA OLEIFERA?
The Moringa tree leaves have been studied and show promise in supporting blood glucose levels already within normal limits.*
BENEFITS OF PROBIOTIC WEIGHT LOSS
WEIGHT LOSS*
APPETITE CONTROL*
DIGESTIVE & IMMUNE SYSTEM*
NORMAL BLOOD SUGAR LEVELS*
(1) Effects of gut microbes on nutrient absorption and energy regulation. "Nutrition in clinical practice : official publication of the American Society for Parenteral and Enteral Nutrition." Nutr Clin Pract. 2012 Apr;27(2):201-14. doi: 10.1177/0884533611436116. Epub 2012 Feb 24.
(2) Research advances in the gut microbiota*. Zhongguo Yi Xue Ke Xue Yuan Xue Bao. 2013 Aug 30;35(4):462-5. doi: 10.3881/j.issn.1000-503X.2013.04.020.
(3) 2010 Oct;33(10):2277-84. doi: 10.2337/dc10-0556.
(4) Microbial reprogramming inhibits Western diet-associated obesity. "PloS one." PLoS One. 2013 Jul 10;8(7):e68596. doi: 10.1371/journal.pone.0068596. Print 2013.
(5) Retraction: Colonic flora, probiotics. "Frontiers in endocrinology." Front Endocrinol (Lausanne). 2013 Aug 20;4:110. doi: 10.3389/fendo.2013.00110.
(6) The development of probiotic treatment in obesity: a review. "Beneficial microbes." Benef Microbes. 2013 Jul 25:1-10. [Epub ahead of print].