Warning: This product is not currently available at any store.
Click the button above and PricePlow will email you when the first store has it in stock!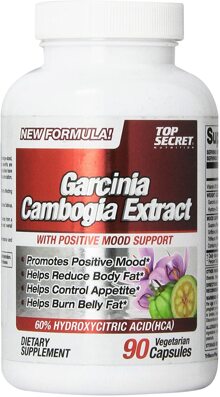 Top Secret Nutrition Garcinia Cambogia Extract With Positive Mood Support
One of the more overlooked success factors in winning the battle against fat is maintaining a positive mood while dieting. Garcinia Cambogia plus positive mood support is designed to not only help you lose fat but also boost your mood during the process.* Garcinia Cambogia plus positive mood support is made up of effective phytocompounds to:
Promote Positive Mood*
Help Reduce Body Fat*
Help Control Appetite*
Help Burn Belly Fat*
About Garcinia Cambogia 50% HCA
Garcinia cambogia is a small tropical, sweet, purple fruit, also called the Malabar tamarind or Mangosteen. This fruit contains hydroxycitric acid ("HCA"), a derivative of citric acid. HCA is obtained as a 50% standardized extract of Garcinia cambogia.
---
How Does It Work?
When calorie intake from carbohydrates exceeds the body's energy needs , the excess carbohydrates are converted into glycogen, which is stored in the liver and muscles for future conversion into energy. Weight gain occurs after the body's capacity for this glycogen storage is reached. At this point, glucose from excessive calorie intake is converted into acetyl coenzyme A via a metabolic pathway involving the enzyme ATP-citrate lyase and then into fat molecules, which are stored in fat cells. HCA prevents this enzyme from enabling the synthesis (making) of fatty acids, cholesterol and triglycerides.In this way, HCA can help reduce the formation of fatty acids during a persistent excess of energy intake as carbohydrate. A recent clinical study on humans reported that Garcinia cambogia reduced abdominal fat accumulation in subjects, regardless of sex, who had visceral fat accumulation.*
---
Mood Support and Maintaining Mental Drive
The Mood Support Blend
L-Theanine
Guarana Seed Extract
Griffonia Simplicifolia
Trineuro Plex Saffron (Crocus Sativus) Extract
When dieting our mood can be negatively affected. We have designed the mood support blend to counter many of the factors affecting mood. Included in the blend are:
TRINEURO PLEX SAFFRON 2% SAFFRANAL - is derived from Crocus Sativus and according to research may enhance mood, memory and feelings of well-being.*
GRIFFONIA SIMPLICIFOLIA SEED EXTRACT 98% 5-HTP - comes from a tropical shrub native to West Africa. According to research may promote calmness and overall sense of well-being.*
GUARANA AND L-THEANINE - this combination of ingredients according to research helps improve cognitive performance and alertness.*
---
Garcinia Cambogia With Positive Mood Support.....The Bottom Line
Fat Formation Prevention*
Countering The Mental Effects of Calorie Restriction*
Appetite Reduction*
Positive Energy Levels*