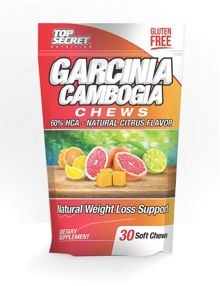 Top Secret Nutrition Garcinia Cambogia Chews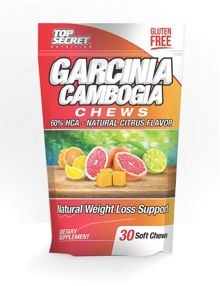 Top Secret Nutrition Garcinia Cambogia Chews
CHEWS
ENJOY LOSING WEIGHT WITH DELICIOUS GARCINIA CHEWS!
These tasty treats are each packed with 500mg of 60% HCA.
Hydroxycitric Acid (HCA) comes from Garcinia cambogia, a small fruit from southern India.
Research suggests that HCA:
Helps support healthy body composition *
Supports serotonin levels*
Promotes satiety and healthy appetite control*
References:
Updates on Effect of Garcinia Origin (-)-HCA. Evid Based Complement Alternat Med. 2013;2013:751658. doi: 10.1155/2013/751658. Epub 2013 Aug 6.
The effect of (-)-hydroxycitrate on energy intake and satiety in overweight humans. Int J Obes Relat Metab Disord. 2002 Jun;26(6):870-2.
J Agric Food Chem. 2002 Jan 2;50(1):10-22. Chemistry and biochemistry of (-)-hydroxycitric acid from Garcinia.