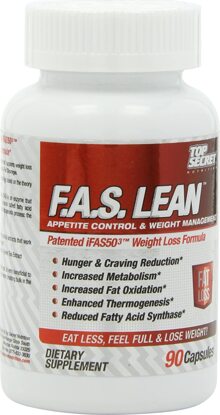 Top Secret Nutrition FAS LEAN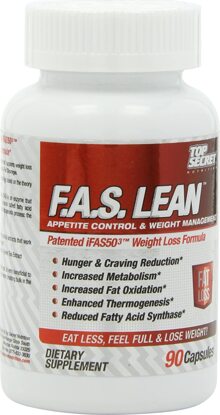 Top Secret Nutrition FAS LEAN
Top Secret Nutrition
F.A.S. Lean



Hunger & craving reduction. Increased metabolism. Increased fat oxidation. Enhanced thermogenesis. Reduced fatty acid synthase. Eat less, feel full & lose weight! F.A.S. Lean – advanced patented iFAS50 appetite control & weight loss formula. F.A.S. Lean is a new generation of diet supplementation that supports weight loss via a 3 pronged attack targeting: appetite, fat burning & fat storage. F.A.S. Lean utilizes an advanced appetite control technology based on the theory that inhibiting fatty acid synthase leads to weight loss. What is Fatty Acid Synthase? Fatty acid synthase (FAS) is an enzyme that catalyzes the creation of free fatty acids through a process called fatty acid synthesis. Fatty acid synthase is an important part of the Lipogenesis process: the conversion of sugars to fat in the body. Ingredients in F.A.S. Lean 1. iFAS50 is a unique, patented combination of three herbal extracts that work synergistically to promote weight loss and suppress hunger: polygonum multiflorum Thunb., Loranthus parasiticus (L.) Merr., camellia sinensis-green tea extract. 2. Glucomannan, a soluble fiber derived from the konjac root, is very beneficial to overall health. It is able to absorb many times its weight in water, creating bulk in the stomach and making you feel more full. F.A.S. Lean supports: reduced appetite, increased fat loss, reduced fat storage.

FREQUENTLY ASKED QUESTIONS

Q. What should I feel from taking F.A.S. LEAN?


A. If taken correctly, 20-30 minutes before meals with at least ten ounces of water, you may feel less hungry and support a healthy appetite level.* It is important to remember that this product is designed to help you eat less, not to encourage you to eat nothing.* Eating keeps the metabolism running strong; focus on a balanced diet, eating small meals throughout the day, and portion control.*

Q. Will F.A.S. LEAN make me feel overly energetic or edgy?


A. No, not at all. The stimulant component of F.A.S. LEAN is relatively low; this supplement is primarily for supporting a healthy appetite level and fat burning.*

Q. How often should I take F.A.S. LEAN?


A. For weight loss, you should take F.A.S. LEAN about 20-30 minutes prior to any meal in which you want to eat less, or any time you want added support to help promote a healthy, normal appetite.* We recommend three times a day for ideal weight loss support.*

Q. Why do I have to drink 10 oz. of water each time I take the product?


A. Water activates the glucomannan, which can absorb up to 200 times its weight in water. This may help give you the fuller feeling.*

Q. Can I stack this product with other supplements?


A. Yes, you can stack F.A.S. LEAN with any supplement, but
we recommend not taking them at the same time. This
product stacks well with most fat burners. However, we
recommend that you consult with a health care professional
before taking this product, or starting a new weight loss regime.*

Directions

As a dietary supplement take 3 tablets 20-30 minutes before each meal, must be taken with at least 10 ounces of water for maximum benefit.

Nutrition Facts

†

Serving Size 3 Capsules
Servings Per Container 30
Amount Per Serving
Serving
% DV
Adipo-Reduction Proprietary Blend
1850 mg
-
Proprietary Blends
Adipo-Reduction Proprietary Blend Glucomannan derived from amorphophallus konjac. Patented iFAS50 (a proprietary blend of polygonum multiform Thunb, Loranthus parasiticus, and carmellia sinensis). Green Tea extract (leaf) standardized for 98% polyphenols.
*percent Daily Values are based on a 2,000 calorie diet.

Ingredients: Hypromellose, magnesium stearate, microcrystalline cellulose.

*These statements have not been evaluated by the Food and Drug Administration. This product is not intended to diagnose, treat, cure or prevent any disease.

†Nutrition Facts are a simulation of the product's "Nutrition Label". For the actual Nutrition Label please refer to the product packaging.

Warnings

Keep out of reach of children. Do not take if you are pregnant or nursing. Do not take before going to bed. Consult your physician prior to use if you are taking any antidiabetic medications. Without drinking enough liquid the product may swell in the throat, causing blockage or choking. Avoid use if you ever had esophageal narrowing or swallowing difficulties.