Quick Links to Our Prices
How does this work and how do stores get listed? See our disclosure below to learn more. Price History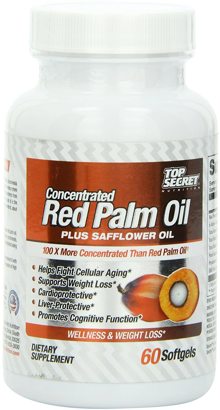 Top Secret Nutrition Concentrated Red Palm Oil Plus Safflower Oil
Helps fight cellular aging*
Supports weight loss*
Helps support cardiovascular health*
Helps protect the liver *
Promotes cognitive function*
Red Palm Oil naturally contains unique phytonutrients that are suggested to help support human health.* Scientific evidence (more than 700 published papers) suggests that tocotrienols together with the phytonutrients from red palm oil contribute to numerous health benefits. However, the major drawback of red palm oil is the excess calories and triglycerides you must consume to get enough phytonutrients: about 28 grams per day.
The Solution: Spectra, Red Palm Oil Concentrate
Spectra, Red Palm Oil Concentrate is 100 x more concentrated than regular red palm oil. Just 250mg of Spectra, Red Palm Oil yields the same levels of mixed-carotenes, tocotrienols, and tocopherols as 28 grams of regular red palm oil. This is accomplished using a patented extraction process.
To round out the benefits of the concentrated red palm oil, we have combined it with Non-GMO High Oleic Safflower Oil. In animal studies it was suggested that ingestion of High Oleic Safflower Oil resulted in a reduction of fat mass.*
---
Benefits of Red Palm Oil
The tocotrienols, tocopherols and mixed-carotenes in red palm oil are the components of vitamin E. For more than five decades, tocopherols have been intensively studied for their health benefits. Most of the vitamin E sold in stores is primarily a synthetic version called Dl-alpha. The issue with synthetic vitamin E is absorption. In studies conducted in humans, it was determined that natural vitamin E is absorbed by the blood and organs twice as much as synthetic vitamin E.* 1
Tocotrienols can be loosely termed as the unsaturated form of vitamin E. Although tocopherols occur naturally in green leafy plants; tocotrienols are more concentrated in plant seeds or grains, such as oat, barley, and rice bran. The richest source of tocotrienols is found in red palm oil. In contrast to the much-studied tocopherols, the many unique benefits of tocotrienols are only beginning to be brought to light by recent research.
Benefits of Tocotrienols
Brain and cognitive support*2
Vascular health support* 3
Liver health* 4
Superior antioxidant function* 2
Skin and hair health* 3
Immune support* 4
Benefits of Safflower Oil
Supports healthy cholesterol levels already in normal range* 5
Supports healthy blood sugar levels, already in normal range*6
Helps reduce fat* 7
When combined with a sensible diet and exercise, the power of Spectra, Red Palm Oil Concentrate is truly unleashed.
References
Burton GW, Traber MG, Acuff RV, et al., "Human plasma and tissue a-tocopherol concentrations in response to supplementation with deuterated natural and synthetic vitamin E," American Journal of Clinical Nutrition, 1998;67:669-684.
J Am Coll Nutr. 2010 Jun;29(3 Suppl):314S-323S. Palm oil-derived natural vitamin E alpha-tocotrienol in brain health.
Malays J Nutr. 2010 Aug;16(2):309-22. Epub 2010 Aug 15.Health promoting effects of phytonutrients found in palm oil.
Br J Biomed Sci. 2009;66(4):216-22. Red palm oil: nutritional, physiological and therapeutic roles in improving human wellbeing and quality of life.
Biosci Biotechnol Biochem. 2000 Jun;64(6):1111-7. Superiority of dietary safflower oil over olive oil in lowering serum cholesterol and increasing hepatic mRnas for the LDL receptor and cholesterol 7alpha-hydroxylase in exogenously hypercholesterolemic (exHC) rats.
Clin Nutr. 2011 Aug;30(4):443-9. doi: 10.1016/j.clnu.2011.01.001. Epub 2011 Feb 3. Time-dependent effects of safflower oil, crossover study.
Am J Physiol Endocrinol Metab. 2011 Jun;300(6):E1076-84. doi: 10.1152/ajpendo.00531.2010. Epub 2011 Mar 15. Dietary manipulation reveals an unexpected inverse relationship between fat mass and adipose 11β-hydroxysteroid dehydrogenase type 1.