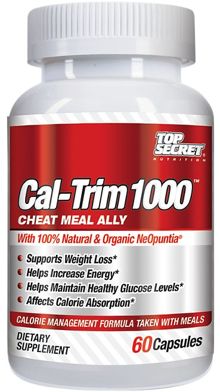 Top Secret Nutrition Cal-Trim 1000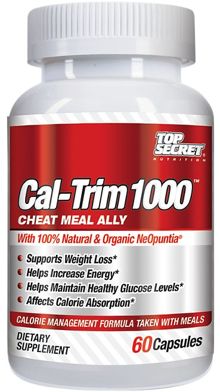 Top Secret Nutrition Cal-Trim 1000
Calorie Management Formula Taken With Meals
Supports Weight Loss*
Helps Increase Energy*
Helps Maintain Healthy Glucose Levels*
Helps Achieve Favorable Caloric Absorption*
Top Secret Nutrition Cal-Trim 1000 is a unique combination of ingredients designed to be taken with fatty and starchy meals to support weight management utilizing a novel 3-pronged formulation.
Ingredient Highlights
Neopuntia
Neopuntia is a 100% natural lipophilic (fat attracting) fiber made from the dehydrated leaves of the Opuntia ficus indica cactus. Lipophilic properties refer to Neopuntia's ability to attract and bind to fats when in their presence. Research has suggested that Neopuntia has fat binding properties.*
InnoSlim
InnoSlim is a proprietary all natural plant derived compound extracted from highly fractionated Panax notoginseng and Astragalus membranaceus. Research shows that in animal studies Panax notoginseng has been associated with weight loss. It is believed that this effect was the result of inhibitin the fat digesting pancreatic lipase activity. Additionally, in vitro and in vivo studies have demonstrated that the ginsenosides in InnoSlim may reduce glucose absorption.*
White Kidney Bean Extract (Phaseolus vulgaris)
Research suggests that Phaseolus vulgaris inhibits the digestive enzyme amylase. Amylase plays a key role in the digestion of foods. As a digestive enzyme, amylase is required for the metabolism of starchy carbohydrates. Research suggests that Phaseolus vulgaris extract when taken before meals may produce decrements in body weight and decrements in fat mass in the face of maintained lean body mass.