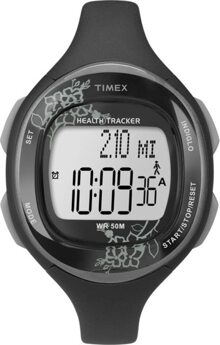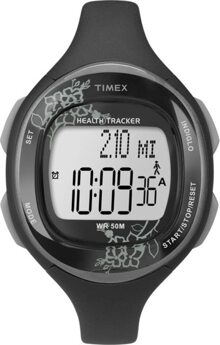 Activity sensor identifies steps taken to estimate distance
Diet Diary will add the calories or units of the day. Time can also display steps, dist, active time and calories burned. 2time zones.
Activity mode provides steps, distance and calories burned
Workout will provide the elapsed time, distance and pace effort slow/fast/med
Countdown timer for hydration, cooking, time out
Countdown/stop (CS)
Countdown/repeat (CR)
3 Daily/weekday/weekend alarm with 5 minute backup
Goals Set up will enable to advise remaining left for activity or calorie intake.
System set up to customize miles/km, steps or calories
Stride can be personalize with a simple personal or calibration set up mode.
Water resistant 50 meters.
HEALTH TRACKER KEY NEW FEATURES
WALK SENSOR/ODOMETER is incorporated to the watch so we can track your daily activity in the different modes of the watch.
ACTIVITY mode will provide your current Steps, distance, calories burned and active time of the day.
DIET DIARY mode will enable enter the units or calories consumed during the day. We will add the units of the day and advise the remainder if a goal is set.
WORKOUT mode has a stopwatch to promote workout time. As simple as to press START and STOP. We can provide distance, calories burned and Pace effort FAST/MED/SLOW so you can pusha bit harder.
REVIEW mode will provide the history of activity and calorie/unit consumption of the past 7 days. The recording of information is automatic.
GOALS set up will enable the user enter distance/step and/orcalories intake goals. We will keep track of your real activity of the day in comparison to your goal.
PERSONAL set up will customize the stride easily. You just need to enter once your gender, age, height and weight.
SYSTEM set up will enable you customize miles or km. Calories or units as the points of weight watchers.
STRIDE CALIBRATION set up. You can enter the stride length or you can walked a fixed distance and we will estimated the stride length for you.