Warning: This product is not currently available at any store.
Click the button above and PricePlow will email you when the first store has it in stock!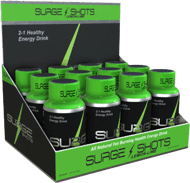 Surge Supplements Surge Shot
ONE OF A KIND
NATURAL CLEAN ENERGY BOOST ANYTIME, ANYWHERE
GET YOUR DAILY DOSE OF B-VITAMINS PLUS MINERALS
LONG LASTING ENERGY AND MENTAL FOCUS
ADDED CITRULLINE, CREATINE, AND AGMATINE
STRONG GREEN ENERGY
Laser sharp focus and long-lasting energy – what's not to like! While energy drinks are infamous for a burst of jittery energy followed by a hard crash, Surge is a sugar-free all-day energy drinks that ramps up evenly and works for hours with no jitters. Surge Shots are truly one of a kind and easily the strongest clean, green energy drink on the market.
With 280mg of natural caffeine, one Surge Shot deliver the equivalent of three cups of pure coffee. This has been determined to be just the right amount to increase metabolism, energy production,[1] and mental cognition[2] without over-stimulating your system. Its green tea extract naturally keeps you awake to shred better at the gym or increase work productivity.[3]
Surge Shots are great as a morning wake up agent, a mid-afternoon boost, or as an effective pre-workout. Each Surge Shot contains agmatine to enhance insulin response,[4] creatine to support ATP and muscular strength,[5] and citrulline to boost nitric oxide production for better blood flow.[6] Plus, Surge Shots are fortified with vitamins and minerals instead of high fructose corn syrup and other dangeous chemicals like many other energy drinks.
When you need energy and you need it fast, Surge Shots are designed with high quality ingredients that last for hours and never leave you with a crash. Plus, Surge Shots actually taste as good as they sound!
References [+]
References [-]
[1] Bracco D, et al. Effects of Caffeine on Energy Metabolism, Heart Rate, and Methylxanthine Metabolism in Lean and Obese Women. American Journal of Endocrinology and Metabolism. 269:4. (1995): 671-678.
[2] Warburton DM. Effects of Caffeine on Cognition and Mood Without Caffeine Abstinence. Psychopharmacology. 119:1. (1995): 66-70.
[3] Shixian Q, et al. Green Tea Extract Thermogenesis-Induced Weight Loss by Epigallocatechin Gallate Inhibition of Catechol-O-Methyltransferase. Journal of Medicinal Food. 9:4. (2006): 451-458.
[4] Klahr S, Morrissey JJ. Agmatine Activation of Nitric Oxide Synthase in Endothelial Cells. Proceedings of the Association of American Physicians. 109:1. (1997): 51-57.
[5] Becque, M.D., et al. Effects of Oral Creatine Supplementation on Muscular Strength and Body Composition. Medicine and Science in Sports and Exercise. 32. (2000): 654-658.
[6] Shen LJ, et al. Accessibility of Endothelial and Inducible Nitric Oxide Synthase to the Intracellular Citrulline-Arginine Regeneration Pathway. Biochemical Pharmacology. 69:1. (2005): 97-104.
* RESULTS MAY VARY