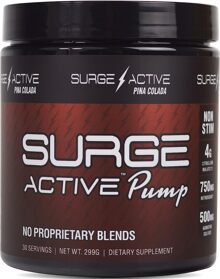 Surge Supplements Surge Active Pump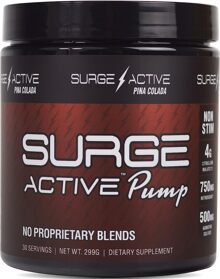 Surge Supplements Surge Active Pump
50g PROTEIN – With 5 different types of protein with unique release rates, Active M92 is designed to help you put on mass as fast as possible

5g FIBER – Digestion is very important especially during a calorie surplus. Natural fiber will help with macro absorption and delivery

90g CARBS – A 50/50 mixture of simple and complex carbs coming from whole foods and simple sugars, Active M92 is designed for mass

Advanced blend of five high-quality proteins that all digest at different rates, keeping your body in a mass building state for a longer period of time. Active M92 delivers just the right ratio of protein to carbohydrates to increase muscle glycogen stores and muscle hypertrophy following resistance exercise

Surge cares about your results, health, and overall success. Surge creates supplements that exceed expectations and raise fitness goals. Surge is committed to producing only the highest quality products through cutting edge fitness innovation.
More