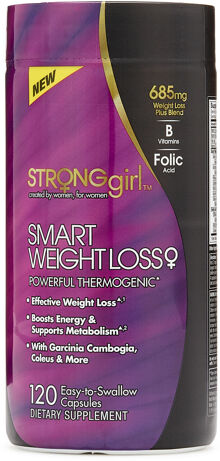 StrongGirl Smart Weight Loss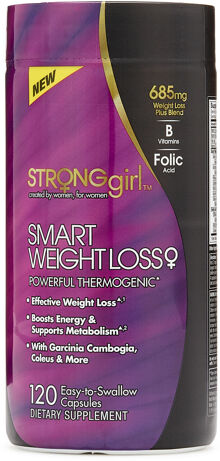 StrongGirl Smart Weight Loss
Includes Scientific Researched Fat Loss Ingredients
SMART WEIGHT LOSS
Powerful Thermogenic
> Effective Weight Loss Support*1
> Boosts Energy & Supports Metabolism*2
>

With Garcinia Cambogia, Coleus & More
The StrongGirl Weight Loss Advantage
StrongGirl Smart Weight Loss was designed with 100% premium ingredients, including a key ingredient shown in scientific research to help people lose weight. StrongGirl Smart Weight Loss will give you the edge you want in your fitness plan to help achieve the body you desire.
Featuring female-friendly ingredients:
Folic Acid
B Vitamins
Vitamin D
StrongGirl Smart Weight Loss delivers the advanced weight loss ingredient green coffee, plus the hot ingredients garcinia cambogia, caralluma, amla fruit, and caraway.*
StrongGirl Smart Weight Loss also provides caffeine to support focus, support enhanced metabolism, increase intensity and provide smooth energy to power you through your training.
KEY INGREDIENT BACKED BY 2 SCIENTIFIC STUDIES
Average weight loss with key ingredient (200mg of green coffee bean extract standardized to 45% chlorogenic acids) was an average of 10.95 lbs. in a 60-day study with a low-calorie diet and 3.7 lbs. in a separate 8-week study with a calorie-reduced diet and moderate exercise.
Formulated with Female Friendly Ingredients
Developed with a Scientifically Researched Key Ingredient
Free of Banned Substances
Free of Harmful Impurities
Free of Undeclared Ingredients
HOW TO TAKE STRONGGIRL SMART WEIGHT LOSS
> Days 1 to 3 – Start by taking 1 capsule once daily 30 – 60 minutes before a meal.
> Days 4 to 5 – Take 1 capsule twice a day, 30 – 60 minutes before your two largest meals.
> Days 6 & beyond – Take 2 capsules twice a day, 30 – 60 minutes before your two largest meals.
Do not take within 5 hours of bedtime. Do not exceed 4 capsules in a 24-hour period. For best results, use for 60 days in combination with diet and training. Do not use for more than 8 weeks. Read the entire label before use and follow directions provided.
1 Weight loss with key ingredient (200mg of green coffee bean extract standardized to 45% chlorogenic acids) was an average of 10.95 lbs. in a 60-day study with a low-calorie diet and 3.7 lbs. in a separate 8-week study with a calorie-reduced diet and moderate exercise.
2 StrongGirl Smart Weight Loss also provides caffeine to support focus, enhanced metabolism, increase intensity and provide smooth energy to power you through your training.*