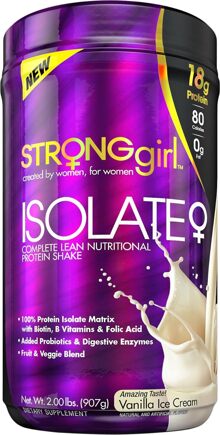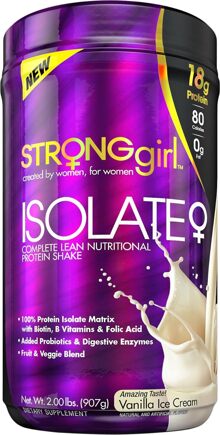 ISOLATE
COMPLETE LEAN NUTRITIONAL PROTEIN SHAKE
>

100% Protein Isolate with Biotin, B Vitamins & Folic Acid

>

Added Probiotics & Digestive Enzymes

>

Fruit & Veggie Blend
The StrongGirl™ Isolate Advantage
StrongGirl Isolate was designed as a complete daily nutritional protein shake by women, for women. It features a 100% isolate protein matrix with 18 grams of pure protein to help support muscle recovery. StrongGirl Isolate features tons of female-friendly ingredients like folic acid and calcium. It also provides a Fruit and Greens Superblend, LactoSpore probiotics and digestive enzymes, and even biotin and collagen. StrongGirl Isolate is also an excellent source of 22 vitamins and minerals, like B Vitamins and Vitamin A. Every scoop packs a ton of taste in only 80 calories for true, guilt-free indulgence your muscles and taste buds will love!
You want the best! Choose the best!
STRONGGIRL
ISOLATE
LEADING
COMPETITOR
Protein
18g
16g
Calories
80
90
Carbs
2g
3g
Fat
0g
1.5g
Sugar
0g
1g
LactoSpore Probiotics
Biotin, Choline, Collagen
A GUILT-FREE INDULGENCE
80
CALORIES
18g
PROTEIN
2g
CARBS
0g
FAT
Formulated for Women
Developed with a Scientifically Researched Key Ingredient
Free of Banned Substances
Free of Harmful Impurities
Free of Undeclared Ingredients
HOW TO TAKE STRONGGIRL ISOLATE
Mix 1 serving (1 scoop) with 6 oz. of water or skim milk in a glass or shaker cup up to two times daily. Read the entire label before use and follow directions provided.