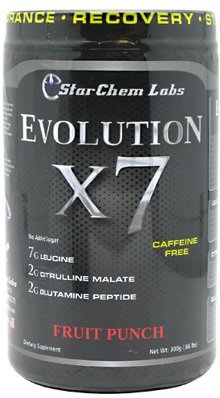 StarChem Labs Evolution X7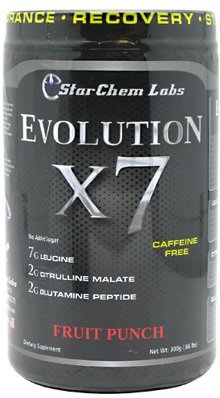 StarChem Labs Evolution X7
With a staggering 7 grams of Leucine, the Evolution of Intra workout supplements is here. Our simple yet very effective formula, Evolution X7, was developed to deliver results. There are many benefits to this product such as increased endurance, enhanced recovery, and it will also reduce muscle breakdown during your training session or athletic event. It also has the ability to allow your body to stay in a positive nitrogen balance or "anabolic state" during training or an athletic event. Drinking Evolution X7 may not only provide you with the edge during training, playing sports, or exercising, it accelerates recovery time from the activity as well. Anabolic is term used in reference to building muscle tissue rather than breaking muscle down or "catabolic."
Formulated to help:
Increase Endurance
Speed Recovery
Improve Stamina
Enhanced Performance
Leucine
Leucine is a unique Branched Chain Amino Acid. It is responsible for several key functions which include promoting protein synthesis, reducing muscle breakdown and has the ability to promote optimal insulin hormone levels. Actually most of the effects of amino acids on protein synthesis depend on Leucine. In addition to increased protein synthesis Leucine can even support protein turnover (balance between protein synthesis and protein degradation).
Citrulline Malate
Citrulline Malate is also a great choice when looking to improve athletic performance and recovery. Citrulline's power lies in its ability to aid the body in removing fatigue causing toxins, such as lactic acid and ammonia. This will allow for you to not only train harder but longer as your endurance may dramatically increase as well.
Glutamine Peptides
There are reasons we choose Glutamine Peptides over traditional L-Glutamine. L-Glutamine is "free form" meaning it is not bonded to other amino acids. The problem is it is less stable and anywhere from 50-85% is used by the digestive and immune systems. With Glutamine Peptides, which are bonded to other amino acids with peptide bonds, you have a much higher absorption rate. This leads to a higher percentage making it into muscle tissue.
Evolution X7 Q&A
How do I take Evolution X7?
Take 1 serving (1 scoop) with 8-12oz of cold water and drink during or immediately after your workout or athletic activity.
Is Evolution X7 better when taken intra or post workout?
This is up to the consumer. Some people prefer using it intra workout as these 3 ingredients play a vital role in endurance allowing you to push harder and longer throughout the workout. Some users prefer not to be drinking anything besides water during a workout and would rather use it post workout to focus more on the recovery aspect of the product.
What is the benefit to using Evolution X7?
First, free form amino acids are absorbed quicker than other protein or amino acid sources such as whey, chicken, or beef. So what does this mean? They don't require digestion the way a whole protein source would. Free form amino acids are absorbed quickly into the blood stream. Leucine for instance can stop the catabolic process and ignite protein synthesis almost immediately. This will play a huge role in recovery and endurance from or during any workout or athletic event.
What is the difference between L-Glutamine and Glutamine Peptide which is used in Evolution X7?
L-Glutamine is a free form amino acid, meaning it is not bonded to any other amino acids. While there is nothing wrong with traditional L-Glutamine it is less stable then Glutamine Peptide. Rather than free form, Glutamine Peptide is bonded with peptide bonds to other amino acids making it more stable, therefore more easily absorbed.
Will this product keep me up late at night?
No, there are no stimulants in this product and can be taken at anytime during the day.
Can this product be used by women?
Yes this product is suitable for both men and women above the age of 18.
Why isn't there any Creatine in Evolution X7?
Although Creatine is one of the safest and most effective supplements for strength and recovery not everyone is interested in using it. Since we have 5 grams of Creatine Monohydrate and Magnapower in Evolution X10 we wanted to give the consumer a Creatine free option. Especially because some bodybuilders getting ready to compete don't want the water retention and it is also banned by some athletic committees meaning it can't be used by many athletes.
Should Evolution X7 be used on non training days?
Well that is up to the consumer. It is not necessary but it will certainly ensue protein synthesis is at an extremely high level and further enhance recovery.