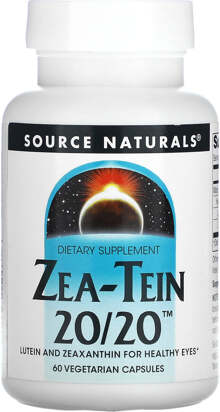 Source Naturals Zea-Tein 20/20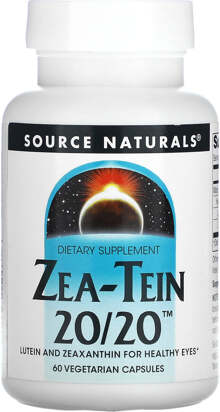 Source Naturals Zea-Tein 20/20
Source Naturals - Zea-Tein 20/20 Lutein & Zeaxanthin - 30 Vegetarian Capsules
Promote Healthy Eyes with Powerful Carotenoid SupportThis unique formula from Source Naturals provides your eyes with essential nutrients they need to maintain full function and health. Each Zea-Tein 20/20 capsule utilizes the powers of two carotenoids, Lutein and Zeaxanthin to help enhance eye health, stability and macular pigment density. The natural carotenoids Lutein and Zeaxanthin provide powerful support to your retina by helping protect from harmful damage due to blue light and oxidative stress. These carotenoids also prevent retinal damage and decrease your chances of developing cataracts. Each serving of this beneficial Zea-Tein 20/20 formula provides the nutrients needed to help improve visual processing speed, reaction time, and may even increase cognitive performance. Source Naturals creates this unique eye health formula using natural ingredients derived from the marigold flower, without the use of artificial preservatives, flavors, colors or fragrances. Each capsule is vegetarian friendly and free from many common allergens, creating a safe source of support with many dietary restrictions. Just one vegetarian capsule is all you need each day to provide the ultimate source of support for your eye health.
Protects from Retinal Damage
May Reduce the Occurrence of Cataracts
Supports Healthy Eye Function
Powerful Formula Provides Essential Eye Nutrition
One Capsule a Day Provides Optimal Benefits
Natural Ingredients Derived from Marigold Flowers
Unique Combination of Blood CarotenoidsThis Source Naturals Zea-Tein 20/20 formula utilizes the powers of naturally occurring blood carotenoids to support your ideal health. These blood carotenoids are pigments within the blood that provide support for many functions and systems within the body. Each Source Naturals supplement contains a combination of Lutein and Zeaxanthin, both blood carotenoids. These tablets support healthy levels of these carotenoids in your body to promote the maintenance of optimal visual and tissue health.
Supports the Maintenance of Healthy Visual FunctionEach Zea-Tein 20/20 supplement contains a healthy dose of both Lutein and Zeaxanthin. These two substances are blood carotenoids found in especially high concentrations around the eye, helping support and maintain healthy visual function. These two pigments help absorb excess pigments to protect the eyes from damage, help block harmful blue light, and provide antioxidant-like benefits.
Promotes the Scavenging of Free RadicalsThis unique Source Naturals formula contains a healthy amount of Lutein to provide a multitude of benefits for your body. Along with its role in supporting visual health, lutein also assists in the process of scavenging free radicals, especially those found in tissues of the eye, heart, lungs and skin. This process of scavenging free radicals prevents oxidative stress and other harmful effects from taking place within the body.
Natural Ingredients Derived from Marigold FlowersSource Naturals utilizes natural ingredients derived from marigold flowers to provide you with a safe source of eye support with their Zea-Tein 20/20 formula. Each capsule is created without the use of artificial colors, flavors, preservatives or fragrances. In addition, every serving is free from many common allergens, such as yeast, dairy, egg, gluten, soy and wheat. These vegetarian friendly capsules make a healthy addition to nearly any diet.
Just One Capsule Each Day Provides Healthy SupportThis powerful nutritional formula is conveniently contained in easy to consume capsules. One capsule each day is all you need to provide your eyes with the essential nutrients they need to maintain peak health. Promoting eye health has never been easier than with Source Naturals.