Quick Links to Our Prices Price History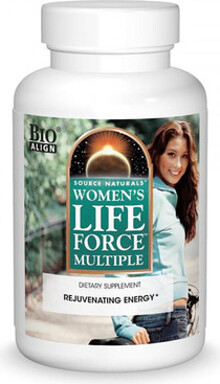 Source Naturals Women's Life Force Multiple
Women´s Life Force Multiple -
The the only women´s multiple formulated using the SystemiCare approach to health care. SystemiCare is a new paradigm in health care: scientifically advanced formulas designed to keep your body´s systems balanced and healthy. Source Naturals has identified 12 deep metabolic systems that are crucial for optimal health. By supporting these systems with scientifically researched nutrients, herbs and high-potency special ingredients, you can take profound steps to support your well-being.*
Women´s Life Force Multiple Highlights
A scientifically advanced, Bio-Aligned formula, based on award-winning Life Force Multiple.
Additional ingredients address women´s specific health concerns, including bone density, vein strength, menstrual comfort, breast health support, and more.*
Designed for women of all ages.
Delivers cellular energy to your deep dozen SystemiCare metabolic systems.*
The secret to guarding your health is strengthening and balancing the underlying body systems that are the foundation of good health. Womens Life Force Multiple is based on Source Naturals´ award-winning Life Force Multiple, which does just that.* Life Force Multiple contains an amazing 47 ingredients " vitamins, minerals, herbs and special ingredients" to address all your key body systems!* To this foundational nutrition, Women´s Life Force Multiple adds specific ingredients to benefit women. For example,
Added calcium and magnesium for bone density*
Butcher´s broom for vein strength*
Bilberry for menstrual comfort and DIM for breast health support*
Women´s Life Force Multiple is also notable for what it does not contain. Certain herbs, such as black cohosh, vitex, and dong quai, can be tremendously beneficial when used by women at particular stages in life (for example, menopause) or for short-term or periodic use, but are not suitable for all women all the time. You will not find these herbs in Women´s Life Force Multiple.