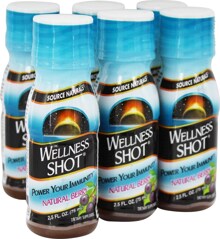 Source Naturals Wellness Shot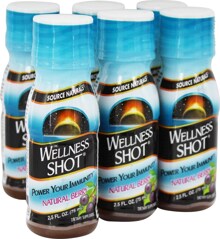 Source Naturals Wellness Shot
Source Naturals - Wellness Shot Natural Berry - 6 Bottles (2.5 oz. / 75 ml each)
Source Naturals Wellness Shot is a convenient way to boost your immune defense. All the wellness in one delicious natural berry shot. Drink one bottle of Source Naturals Wellness Shot once or twice daily at the first sign of imbalance or before exposure to crowded environments such as offices, restaurants and airplanes.
Power your Immunity
Delicious Natural Berry Flavor
BPA-Free
No Preservatives
Nature and Science: Formulation Philosophy
Source Naturals respects nature's intelligence. Source Naturals' bodies continually seek equilibrium and a healthy balance. Source Naturals believes many health concerns arise out of structure and function imbalances related to poor nutrition, stress and pollutants in the environment and that carefully chosen nutritional compounds can support this healthy equilibrium. They study science. They base their formulations on a deep understanding of the underlying mechanisms their bodies use to maintain balance. They choose scientifically optimal nutrient forms and potencies that work at the cellular level to bring the body's interdependent systems into balance. They call this unique formulation strategy, Bio-Alignment.
Quality
Source Naturals honors the trust their customers place in them with an unwavering commitment to the highest standards of quality. Their Quality Control team rigorously tests their products to ensure they meet specifications. They are proud that the purity and quality of their products have been certified through an independent and ongoing audit of their entire operation for Good Manufacturing processes.
Advocacy
Source Naturals advocates for a wellness revolution. They call for a radical change in the way their communities think and act about health. They stand for a new health care model focused less on disease care and more on early intervention to address metabolic structure and function imbalances that can impact wellness. This new model called SystemiCare embraces the health enhancing value of nutritional compounds the body already recognizes. They call this shift to a more in-depth, holistic view of health, the wellness revolution and it is gaining momentum as a social movement. New scientific studies continue to validate the benefits of nutrition, a healthy lifestyle and diet. More consumers are taking a proactive role in their health. Leaders in medicine are championing a new integrative model combining serious nutrition with the best of other disciplines to deliver optimal health. These developments mean that each of us have more opportunities than ever to enhance their personal wellbeing and vitality.
Innovation
Source Naturals fosters innovation. Their vision of a healthier world inspires them to seek and bring to market innovative new compounds to advance the wellness revolution and offer customers a better quality of life.