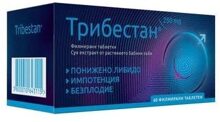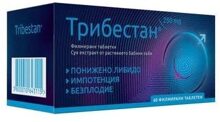 Tribestan, a patented extract of the Tribulus Terrestris L. Plant from Bulgaria, is also called Puncture Vine. Tribestan contains flavonoid glycosides and furostanol saponins (protodioscin) as active components. It also contains some of the highest levels of saponins among Tribulus extracts. Protodioscin and protogracillin are the active ingredients that are extracted from Tribulus terrestris to make Tribestan.*
You may have assumed that Tribulus terrestris (a more popular and well known supplement), would provide you with all the benefits associated with Tribestan. That's a major problem because Tribulus terrestris has been confused with Tribestan for the past several years. But they are not the same thing... not even close.
Tribulus terrestris is a plant that grows on beaches all over the world. Tribestan is made from the Tribulus terrestris plant, but that's where the connection ends. If they're made from the same plant, how can they not be the same thing? Stay with me, because I'm sure you're a little confused. But, I'll explain everything so you'll easily understand it.
Imagine if you wanted to make fresh squeezed orange juice at home. Of course you need oranges -- but the oranges are not orange juice. With the oranges, you've got the peel, the rind, the pulp, the seeds, and the flesh of the fruit. And if you squeeze the oranges, you can get juice from them. So if you effectively "extract" the juice, from the orange, you'll have what you want -- the orange juice. And you'll also have what you made that juice from -- several bruised and squashed orange remnants... the stuff you don't want. And if you've ever squeezed oranges to make juice, you know how many it takes to make even a small glass of orange juice. It seems like a whole bag makes only about 6 ounces and takes forever-plus you make a big mess doing it.
So think of Tribulus terrestris as the oranges and Tribestan as being the orange juice. Just as the juice is extracted from the orange, Tribestan is extracted from Tribulus terrestris. The juice comes from the orange and Tribestan comes from Tribulus terrestris, but Tribestan is not Tribulus terrestris any more than orange juice is orange peel or seeds.*
Sopharma developed the technology to extract the protodioscin and protogracillin (the active ingredients in Tribestan) from the Tribulus terrestris plant. In 1956, they began researching Tribulus terrestris in order to isolate the active ingredients.*