Quick Links to Our Prices Price History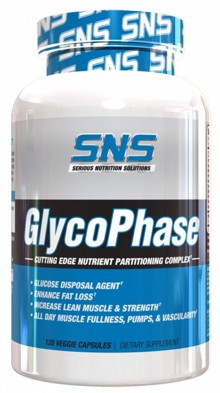 Glycophase is a nutrient partitioning supplement from SNS that will help your body optimize its utilization of carbohydrates. Nutrient partitioners are underappreciated in the supplement world and can be of great use to help you get better results out of your diet and training.
Phellodendron (bark) extract
The active compound in this ingredient is berberine — an extremely well-documented blood sugar lowering agent that will help optimize your muscles utilize carbohydrates for energy, instead of storing it as fat in areas where you least want it.
Berberine can exert its effects both acutely due to its own rapid bioavailability for postprandial carbohydrate optimization, as well as over an extended period of time, due to several of its metabolites (thalifendine, jatrorrhizine, berberrubine, demethylenberberine) exerting the same effects as the parent compound.[1]
AMPk related activities
The main mechanism of action of berberine in the body is through activation of adenosine mono-phosphate kinase (AMPk). AMPk is an enzyme that plays a critical role in maintaining proper energy balance. For example, when energy stores are low, it will trigger lipolysis and burn fat for energy. But when energy supply is high, it will allow for more fat storage. Muscles store rapidly accessible energy in the form of the adenosine tri-phosphatemolecule (ATP) molecule. When muscles use this energy, ATP is converted into di-phosphate (ADP) and then mono-phosphate (AMP). As you exercise and burn energy, AMP levels rise, ATP levels fall, and AMPk senses cellular energy balance by comparing ratio of these two molecules.
Once triggered, AMPk is involved in a cascade of dozens of enzymatic reactions. That's a lesson for your college biology class so we're not going to attempt to address all of those here, just a few that we're particularly interested in.
Fat loss amplification
Increased AMPk regulates fat metabolism and can induce lipolysis while blocking the proliferation of new fatty tissue through the activity of a series of proteins known as adiponectin.[6] The interesting thing is that adiponectin then induces further AMPk, which induces further adiponectin … you get the point.
Its activity is reduced in the obese and those with insulin resistance. As would be expected, these effects lead to fat loss, which has been documented in multiple human trials, where those with metabolic syndrome lost 13% of body weight [7] and overweight but healthy subjects lost an average of 5 pounds.[8]
It's worth noting that these weight loss effects were in the absence of dietary changes, so they were wholly derived from metabolic advantages. Additionally, in the latter of the two human studies, the weight loss favored fat mass over lean mass, which is always a beneficial state to be in when losing weight.
Beneficial effects on glucose metabolism
The blood sugar lowering effects of berberine were accidentally discovered in 1988, [9] after berberine was administered for diarrhea based on its traditional chinese medicinal use. A recent meta-analysis of 14 human trials consisting of a total of over 1,000 human subjects observed the effects of berberine on glucose metabolism and noted the following statistically significant results:[10]
Reduced fasting blood sugar
Reduces postprandial (after eating) blood sugar
Increased lipid metabolism
Reduces fasting insulin levels
Stimulated muscle glucose uptake
Another big target of AP, berberine has been shown repeatedly to stimulate the uptake of glucose into muscle cells for storage as glycogen.[11,12] This means more muscle fullness, and better utilization of carbohydrate consumption for energy when exercising.
There is of course a catch to everything, and berberine has been shown to induce a protein named atrogin-1. This protein signals muscle breakdown and inhibition of muscle protein synthesis. However, these effects are minimal and are more than offset by the massive surges in muscle protein synthesis as a result of the additional exercise capacity you're going to have thanks to your heightened glycogen stores.
The point being, AP isn't a supplement for people who are lazy. It's a supplement for people who are looking for ways to increase their exercise capacity and use it.
Positive effects on cholesterol
Berberine can have significant beneficial effects on cholesterol. Lowering the cholesterol of hypercholesterolemic people by up to 25% in three months.[2] This action is a result of inhibited degradation and increased synthesis of LDL receptors, which uptake LDL cholesterol from the blood and transport it to the liver for metabolism and clearance.[3]
Nitric oxide boosting effects
Lots of people notice increased pumps when supplementing with AP, hence its original name, Anabolic Pump. In addition to the increased muscle fullness as a result of increased glycogen storage, these effects are also a result of berberine-induced vasorelaxation and NO boosting. This effect has been shown in both rats and humans.[4, 5]
Effects on amino acid metabolism and gluconeogenesis
Because of its beneficial effects on optimizing energy metabolism, berberine can help reduce the frequency of your body having to turn to more eccentric ways of generating energy.
When your body runs low on glycogen, it can resort to a process called hepatic gluconeogenesis, a process in which the liver converts non-glucose substances into glucose. Often the source material for this conversion are glucogenic amino acids.
While this is entirely natural, it's not ideal. You've got better things to use your amino acids for than energy production, such as building muscle and preserving brain function. In a perfect world, your body can satisfy all of its energy needs through carbohydrates and the oxidation of fatty tissue.
Fortunately for you, berberine inhibits this wasteful process as a result of the more favorable glucose metabolism freeing up your amino acids for their intended purpose.[13,14]
As you can see, berberine elicits a broad range of positive metabolic effects that are well documented in humans.