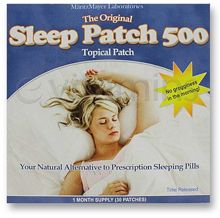 SmithSorensen Sleep Patch-CR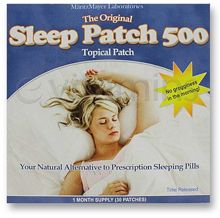 SmithSorensen Sleep Patch-CR
Topical Patch for Sleep Aid
With Melatonin, St. John's Wort
1 Month Supply (30 Patches)
The main ingredient used in The Original Sleep Patch 500 is melatonin. Melatonin is a hormone secreted by the pineal gland in the body. It is generally secreted at night. Normally levels are the greatest during the normal hours of sleep. The level of melatonin in the body rapidly increases in the late evening, peaks after midnight and decreases toward the morning. Melatonin promotes sleep by fixing abnormalities in sleep-wake cycles. As we get older, many produce insufficient amounts of Melatonin naturally. This may cause sleep problems. A solution for many who suffer from sleep deprivation, may be to take Melatonin as a supplement. We also added St. John's wort to the formula due its known relaxing effects and its historical use for anxiety and mild depression. 

Supplement Facts:

Serving Size: 1 Patch
Servings Per Container: 30

Ingredients:
St. John's Wort Dried Extract (stem, leaf, flower) 0.3% dianthrones measured as hypercin 300mg
Melatonin 3mg

Directions: Simply apply a patch to a hairless part of the upper body 30 to 60 minutes before you go to sleep. Please remember to take the patch off in the morning when you wake up.

Warnings: Always read and follow manufacturer's directions that come with this product. Consult your physician prior to starting any weight loss program. Do not use if pregnant, lactating or sensitive to iodine. In the unlikely event that you do experience any side effects or adhesive allergies, stop use immediately and seek prompt medical attention. For adult use only. Not recommended for children under the age of 12.

Note: Manufacturers continually change product specifications. While we try our best to keep product descriptions up to date, they do not necessarily reflect the latest information available from the manufacturer. We are not responsible for incorrect or outdated product descriptions and/or images.

These statements have not been evaluated by the Food and Drug Administration. This product is not intended to diagnose, treat, cure, or prevent any disease.