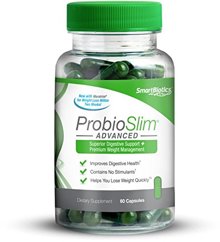 SmartBiotics Probioslim Advanced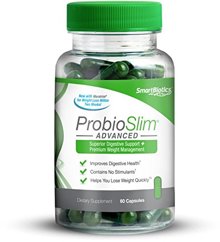 SmartBiotics Probioslim Advanced
Superior Digestive Support + Premium Weight Management
Improves Digestive Health*
Contains No Stimulants*
Helps You Lose Weight Quickly*
A Unique Twist on Probiotics
ProbioSlim Advanced's superior formula combines one of the most efficacious and resilient probiotic strains with a stimulant-free, clinically researched weight loss ingredient for results within two weeks.
The innovative compound LactoSpore helps ease symptoms associated with occasional diarrhea, constipation, gas, and bloating. It is scientifically engineered to survive the harsh to survive the harsh environment of your gastrointestinal system to provide maximum digestive benefit. No inconvenient refrigeration, and no need to ingest billions of probiotic cultures.
Paired with this comprehensive probiotic is a patented caffeine-free weight loss ingredient called Meritrim that delivers real results starting in as little as two weeks, without the jitters. A concentrated cutting-edge extract from the rind of the purple mangosteen fruit, combined with key active compounds in the flower heads of the exotic East Indian globe thistle, has been shown in clinical research to help you lose weight faster and more efficiently when added to your diet and exersize regimen.
Take control of your digestion and your weight with stimulant-free ProbioSlim Advanced!
The LS9947 Super Lipolytic Megablend
LactoSpore
This premium probiotic strain was specifically designed to survive the harsh pH imbalance of your stomach to deliver digestive relief where it is needed most: your intestines. The optimal bacterial spore count works efficiently to help ease occasional diarrhea, constipation, gas, and bloating. While guaranteeing safety and comfort without refrigeration.
Meratrim
(Garcinia Mangostana + Sphaeranthus Indicus) The constituent compounds of this stimulant-free weight loss ingredient are staples in the cuisine of Southeast Asia. Meratrim is a safe and incredibly effective anti-adipogenic and lipolytic blend which will help decrease your waist circumference, reduce your BMI, and lower your overall body weight when paired with a sensible diet. It also synergistically helps improve your body fat ratio. And best of all, it works quickly - starting in just two weeks.
Premium B Vitamin Matrix
The sophisticated vitamin matrix in ProbioSlim Advanced keeps you motivated by helping to support your energy levels.
PreticX Two-Stage Prebiotic Complex
This innovative third-generation system containsdistinct prebiotics naturally found in bamboo, honey, and milk. Not only do these prebiotics specifically feed LactoSpore's probiotic strains, they also promote the competitive inhibition of non-beneficial strains for optimal relief.