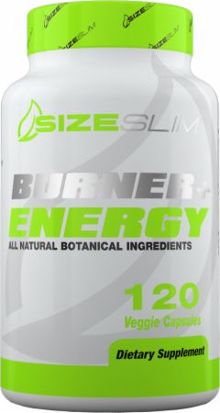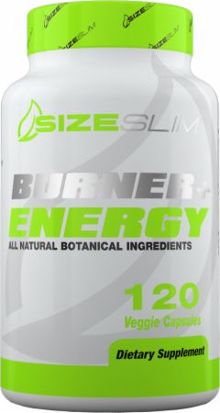 ALL NATURAL BOTANICAL INGREDIENTS
SizeSlim Burner + Energy is an all natural weight loss support supplement without any added stimulants*
A VEGAN + GLUTEN-FREE PRODUCT
SIZESLIM BURNER + ENERGY COMBINES A UNIQUE BLEND OF ALL NATURAL, BOTANICAL INGREDIENTS SPECIFICALLY CHOSEN TO:
Support appetite control*
Enhance metabolism*
Increase energy levels*
our functional ingredients include
L-Carnitine This amino acid enables the body to break down internal visceral fat (worst fat accumulated around internal organs that contribute to heart problems and disease) to be broken down more effectively for energy.*
Raspberry Ketones & Green Tea Extract Natural plant extracts known to support multiple pathways of energy and metabolism in the body. Green tea is also a great antioxidant to support immune system and cellular health.*
Chromium Picolinate A mineral in a specific form that has been suggested to support blood sugar levels already in healthy range, and enhance the body's ability to work with carbohydrates more effectively.* This, as a result, helps with energy levels and controlling appetite.
Garcinia Cambogia A natural extract thought to support lipid (think cholesterol/fat) breakdown which can then be used for energy. It is also known to help with glucose uptake and lowering of insulin response which means helping with more stable energy and appetite control.*
Yerba Mate Yerba mate is a leaf that's been used for centuries to give a quick, natural boost of energy.
B Complex B Vitamins, commonly found in fish, poultry, and eggs can help the body maintain the health of red blood cells, the heart, and the brain.*
FEATURES & BENEFITS
ENERGY: A nice boost in energy without added caffeine or stimulants
LESS HUNGER: Hunger levels kept under control via appetite control supporting ingredients.*
OVERALL HEALTH: Health benefits including ingredients that may support the cardiovascular system.*
WHAT SHOULD I EXPECT WHEN TAKING SIZESLIM BURNER + ENERGY? Most users report a feeling of enhanced energy, and most noticeably, a decrease in hunger and appetite.* Because of its ability to support many energy and metabolic pathways in the body, users often see sustained fat loss with continued use.
DOES SIZESLIM BURNER+ENERGY HAVE ANY ADVERSE SIDE EFFECTS? Outside of a noticeable decrease in appetite, the short answer is no. But, we always recommend that you consult with a healthcare practitioner if you suspect any health concerns, or if you are taking any medication or have a medical or serious underlying conditions. Do not use if pregnant or breastfeeding.
DOES SIZESLIM BURNER+ENERGY HAVE ANY ADDED CAFFEINE OR STIMULANTS? No. SizeSlim Burner+Energy is not like many other caffeine/stimulant enhanced weight loss products on the market.The user should expect to feel comfortable, without any jitters, when taking this product.*