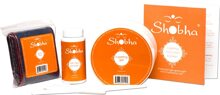 Shobha Sugaring Kit For Hair Removal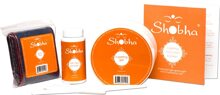 Shobha Sugaring Kit For Hair Removal
Natural Hair Removal.  Sensitive & effective home system. The Shobha Sugaring Kit offers a hassle-free home hair removal system using our signature, 100% natural, professional-grade formula.
less painful than waxing, with minimal irritation
gentle enough for use, even on the most sensitive areas
detailed & easy-to-follow instruction booklet
simple cleanup - just use warm water (or jump in the shower)
microwave friendly
provides supplies for multiple treatments
reusable, machine washable, eco-friendly denim strips
talc-free powder for safe & effective skin preparation
reusable spatulas for easy application
Natural ingredients mean natural reactions - which for most is no reaction at all!Kit contains:
8 fl oz sugaring gel
2 oz talc-free powder
6 denim strips
1 sugaring instruction booklet
2 plastic spatulas
No worries, these products contain only natural ingredients:
paraben free
dye free
fragrance free
petrol free
resin free
wax free
Recommended for people.  Human tested.  We heart animals and never test on them.  Vegan friendly.
Powder Free Talc
: Before use test on inner arm for sensitivity. Do not apply to broken or irritated skin. Discontinue use if discomfort or rash occurs. Keep out of children's reach. Not tested for use during pregnancy. 
* These statements have not been evaluated by the Food and Drug Administration. This product is not intended to diagnose, treat, cure, or prevent any disease.