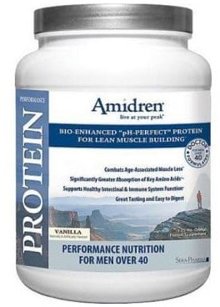 Sera-Pharma Amidren Protein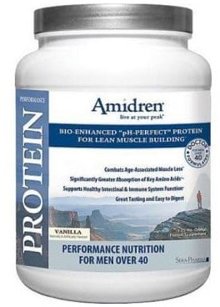 Sera-Pharma Amidren Protein
Super-Protein For Men Over 40!
• Slows Muscle Loss Due to Age
• Dramatic Amino Acid Digestion and Absorption by as much as 128%!
• Tastes Great!
• Zero Artificial Sweeteners.
• Includes a Research Proven Probiotic That has Over 100 Patents.
• Enhances Protein Digestion Efficiency
• Designed for Men Over 40 by leading anti-aging expert Dr. Vincent Giampapa, M.D.

Amidren Protein is Doctor created for the older male - age 40 and up. Age brings about many changes in our bodies, one of which is a decreased ability to utilize protein for muscle growth. This is one reason the older male loses muscle mass with age. While your first thought may be to simply drink more protein, this is not the answer. You need to use a protein formula designed with the challenges associated with aging in mind.
Dr. Vincent Giampapa, M.D., FACS, a leading anti-aging expert designed Amidren Performance Protein using a special technology to help the older male build and maintain lean muscle mass. Amidren utilizes superior quality whey and pea protein isolates and includes a probiotic that's been backed by research and protected with more than 100 patents. This combination results in complete protein digestion, as well as full absorption of amino acids, pH regulation and support of immune system function.
Amidren Performance Protein – Don't Let Age Slow You Down.

Supplement Facts
Serving Size: 1 Scoop 
Servings Per Container: 20 
 
Amount Per Serving 
 
Calories - 110 
Calories from Fat - 15 
Total Fat - 1.5 Grams 
Saturated Fat - 1 Grams 
Trans Fat - 0 Grams 
Cholesterol - 35mg 
Sodium - 90mg 
Potassium - 90mg 
Total Carbohydrate - 4 Grams 
Dietary Fiber - 0 Grams 
Sugars - 1 Grams 
Protein - 20 Grams 
Calcium - 86mg 
Iron - 0mg 
Magnesium - 25mg 
 
Other Ingredients:  
Amidren 'pH Perfect' Protein Matrix (whey protein concentrate, pea protein isolate, GanedenBC30 probiotic, potassium citrate, magnesium citrate and potassium bicarbonate), natural and artificial flavors, gum blend (cellulose gum, xanthan gum and carrageenan), acesulfame potassium and sucralose.

Directions
Mix 1 scoop with 8oz. cold water. Consume 2-3 shakes per day: first thing in the morning, post-workout and before bed.

Warnings
Discuss with your physician before taking if you have a medical condition or are taking any prescription medications. Stop use and discuss with your physician if any negative effects occur. Do not exceed suggested dose. Do not take if pregnant or lactating. Must be 18 years old to use this product. Keep away from children.