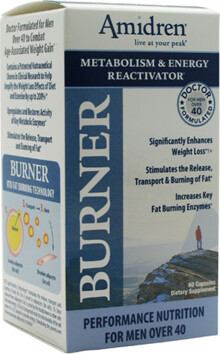 Sera-Pharma Amidren Burner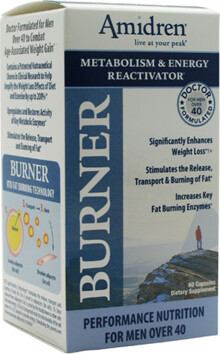 Sera-Pharma Amidren Burner
METABOLISM & ENERGY
SUPPORT*
SIGNIFICANTLY ENHANCES
WEIGHT LOSS*
STIMULATES THE METABOLISM
TO HELP BURN FAT*
UPREGULATES KEY
METABOLIC ENZYMES*
REACTIVATE YOUR METABOLISM AND GET LEAN AGAIN!
As men age, key metabolic functions begin to decline, making it more and more difficult to lose weight. With each passing year you gain more body fat and continue to look and feel more out of shape. Medical researchers call this age-associated fat gain. It affects millions of men and can begin developing as early as your 30s.

To combat this problem, anti-aging expert Dr. Vincent Giampapa, M.D. and the Sera-Pharma Labs R&D team have extensively researched the mechanisms that influence weight gain in men over 40. What they discovered is that as you get older, the levels of critical enzymes fall and metabolic "bottlenecks" occur at key stages of the fat burning process. As a result, the release, transport and burning of fat for energy slows down. At the same time, the accumulation and storage of body fat increases. This is why as you age, you gain weight more easily and find losing weight to be more difficult.

AMIDREN BURNER is uniquely formulated to support healthy enzymes and metabolism in men over 40.* The driving force behind AMIDREN BURNER is its advanced RTB Lipid Kinetics Technology and powerful, clinically researched ingredients. AMIDREN BURNER's advanced RTB Technology helps reactivate your metabolism by supporting critical enzymes and promote the release, transport and burning of fat more like your body did in your youth.* Use AMIDREN BURNER to help you get your lean, youthful body back.
Bill Wagner
Age 60
Lost 18 lbs.
"I wanted to lose excess weight and obtain lean muscle mass and a more youthful look," says Bill Wagner, who used AMIDREN BURNER for 90 days as part of the Primetime Muscle Makeover for Muscle & Body magazine. "With the results I achieved, I look and feel the best I have in over 20 years!"*
Photos used by permission of Muscle & Body magazine. The results obtained are not typical. The individuals that appear in the before and after photographs are NOT employees, agents or representatives for Sera-Pharma Labs or Basic Media Group, Inc. Sera-Pharma Labs (Amidren products) is one of the Supplement Sponsors of the 90-Day "Get Your Body Back" Transformation Series as it appears in the September 2013 issues of Muscle & Body and WellBella magazines.
OVERCOMING AGE-ASSOCIATED
WEIGHT GAIN IN MEN OVER 40
HE CAUSES OF AGE-ASSOCIATED WEIGHT (FAT) GAIN REVEALED
The aging process is often paralleled by decreases in muscle and increases in fat mass. At the extreme these two processes lead to a condition known as "age-associated weight gain."
Contributing factors:

Falling levels of metabolic enzymes.
"Bottlenecks", or slowdowns, at key steps within the fat loss pathway.
Decrease in metabolic rate (the rate at which your body burns calories), partly due to loss of muscle mass.

Age-associated fat gain can ultimately lead to a loss of energy.
4 In the New Mexico Aging Process study, those who maintained a healthy body composition, helped support overall health.*
AMIDREN BURNER WEIGHT LOSS ADVANTAGES
The Sera-Pharma R&D team dedicated years to studying age-associated changes within the fat loss pathway of the male body. Using their years of expertise and scientific insights, Dr. Giampapa and his Sera-Pharma team specifically formulated AMIDREN BURNER to help support healthy metabolic processes and promote healthy body composition in men over 40.*
Formulated by leading anti-aging expert Dr. Vincent Giampapa, M.D. specifically for men over 40.
Clinically studied and U.S. patent-protected ingredients.
Helps support key metabolic enzymes, the levels of which fall with increasing age.*
Stimulates your metabolism to release, transport and burn fat more quickly.*
Used as directed, AMIDREN BURNER RTB Lipid Kinetics Technology supplies a clinical dose of 7-Keto.
7-Keto is an acetylated version of 7-Keto-DHEA, a substance produced naturally by the body. When ingested, 7-Keto is rapidly converted into 7-Keto DHEA.
The efficacy of 7-Keto is supported by three double-blind, placebo- controlled clinical trials. Research suggests that it amplifies the fat loss and weight loss effects of diet and exercise.*
By the time a man hits age 40, his natural production of 7-Keto DHEA has dropped by 40% and continues falling for the rest of his life. Used daily, AMIDREN BURNER helps support 7-Keto DHEA closer to youthful levels.*
RTB Lipid Kinetics TechnologyTM stimulates the release, transport and burning of body fat. Fat is stored in adipocytes (fat cells). (1) Once released from adipocytes, fat is carried by the bloodstream to other cells that need energy. (2) Fat is transported inside the mitochondria of the cell where it is (3) burned to provide energy. Stimulating this process over time encourages adipocytes to shrink.*