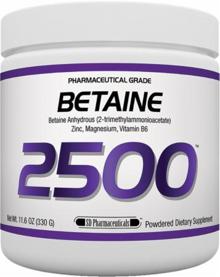 SD Pharmaceuticals Betaine 2500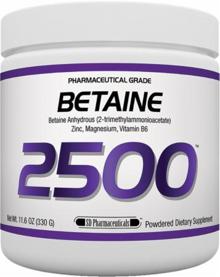 SD Pharmaceuticals Betaine 2500
BETAINE 2500 - HIGH-QUALITY BETAINE
SD Pharmaceuticals' BETAINE 2500 delivers a scientifically-researched dose of Betaine Anhydrous. This well-researched dosage is exactly what many clinical studies have used to demonstrate improvements in muscle growth and body composition! In addition, SD Pharmaceuticals' BETAINE 2500 includes the performance supporting nutrients Zinc, Magnesium and Vitamin B6, for added benefits!*
WHAT IS BETAINE ANHYDROUS?
Betaine Anhydrous is found naturally in the body. It is a trimethyl derivative of the amino acid glycine and is a component of many foods, including wheat, spinach, beets, and shellfish.
WHY SHOULD PEOPLE USE BETAINE?
Betaine Anhydrous can support muscle growth and improve body composition!*
SD PHARMACEUTICALS' BETAINE 2500 ADVANTAGE!
SD Pharmaceuticals' Betaine 2500 is a pharmaceutical-grade Betaine Anhydrous supplement that is manufactured in a certified GMP facility. Our formula contains the precise amount of Betaine Anhydrous that has been used in several scientific studies. In addition, it includes the combination of Zinc, Magnesium, and Vitamin B6 for performance support!*
Supports Muscle Growth & Fat Loss!*
2.5 grams of Betaine per Daily Serving!*
Zinc, Magnesium & Vitamin B6
THE SCIENCE BEHIND AGMATINE 500
Betaine Anhydrous: Betaine Anhydrous has been shown to lower homocysteine levels and modulate healthy hormone levels. In a recent study, supplementation with 2.5 grams of Betaine per day was found to support muscle growth and improved body composition. Research suggests that betaine has the ability to help support fat loss by promoting the oxidization of lipids.*
Magnesium: Magnesium is involved in many processes that affect muscle function, including oxygen uptake by the muscles, energy production, and even electrolyte balance. Research results suggests that Magnesium can act as an anti-fatigue and endurance-enhancing supplement.*
Zinc: Zinc is found primarily in the kidneys, liver, pancreas, and brain. It is involved in over 200 enzymatic reactions in the body and is used to increase the quantity of important muscle-supporting hormones.*
Vitamin B6: Research suggests that Vitamin B6 could work in a synergistic manner with Betaine Anhydrous. Vitamin B6 can transform amino acids into over 5000 proteins, and is essential to over 60 different enzymes that assist the body with biological functions.*
Zinc, Magnesium, Vitamin B6: The synergistic functioning of Zinc, Magnesium, and Vitamin B6 has demonstrated itself as a key factor in supporting healthy hormone levels in the body. They can also work to boost the immune system, which can contribute to muscle growth and repair.*