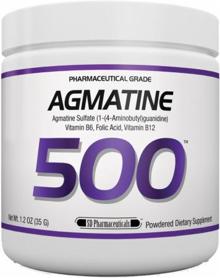 SD Pharmaceuticals Agmatine 500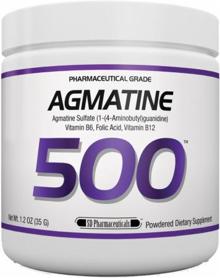 SD Pharmaceuticals Agmatine 500
AGMATINE 500 - HIGH QUALITY AGMATINE
SD Pharmaceuticals' AGMATINE 500 delivers a solid dosage of pharmaceutical grade Agmatine Sulfate to support healthy nitric oxide production and muscle pumps! In addition, it offers powerful antioxidant support. SD Pharmaceuticals' AGMATINE 500 also includes Vitamin B6, Folic Acid, and Vitamin B12 to support healthy blood flow and increased energy levels!*
WHAT IS AGMATINE SULFATE?
Agmatine Sulfate was discovered in 1910 and is a natural compound that is synthesized by the decarboxylation of the amino acid arginine.
WHY SHOULD PEOPLE USE AGMATINE?
Athletes and bodybuilders report that Agmatine Sulfate may help muscles look fuller, repair quicker, and all while offering potent antioxidant properties.The beneficial effects of Agmatine Sulfate, Vitamin B6, Folic Acid, and Vitamin B12 have been examined in hundreds of research studies.* A summary of the amazing benefits of these ingredients include:
Helps the body metabolize carbohydrates, fats, and proteins.*
Helps to form red blood cells.*
Helps in tissue formation.*
SD PHARMACEUTICALS' AGMATINE 500 ADVANTAGE!
Supports Nitric Oxide (N.O.)!*
Powerful Antioxidant For Athletes!*
Vitamins B6, B12 & Folic Acid*
SD Pharmaceuticals' AGMATINE 500 offers an advantage over all other agmatine products on the market because it includes key dosages of Vitamins B6, Folic Acid and Vitamin B12! These vitamins work synergistically with Agmatine Sulfate to support Nitric Oxide and overall performance! SD Pharmaceuticals' AGMATINE 500 is a top-quality pharmaceuticalgrade product that's manufactured in a certified GMP facility, which adheres to the most stringent manufacturing processes.*
THE SCIENCE BEHIND AGMATINE 500
Agmatine Sulfate works cua a variety of mechanisms:
Research suggests that Agmatine can act directly on endothelial cells to increase the synthesis of nitric oxide, which is a key vasodilatory substance.
Evidence indicates that ingested Agmatine Sulfate can be absorbed and modulate multiple molecular targets in the body. These include key neurotransmitter receptors, ionic channels, NO synthesis, cell signaling pathways, and AGE-product formation. These molecular mechanisms underlie the effects of Agmatine Sulfate.*
SD Pharmaceuticals' AGMATINE 500 includes Vitamin B6, Folic Acid, and Vitamin B12 for enhanced performance!*
Vitamin B6: This is a water-soluble vitamin and is a cofactor in many chemical systems in the body. The main use in SD Pharmaceuticals' AGMATINE 500 is for its role in decarboxylation (The removal of a carbon group to specific chemicals). Since Agmatine is the by-product of the decarboxylation of Arginine, adding vitamin B6 works to support this reaction.*
Folic Acid: This is also considered a B vitamin and supports many functions in the body. It is specifically used for its synergistic effect alongside Agmatine Sulfate to support NO production.*
Vitamin B12: This is a water-soluble vitamin that plays a role in the healthy function of the brain, nervous system, and even in the composition of blood. Vitamin B12 also works synergistically with Agmatine to support NO production.*