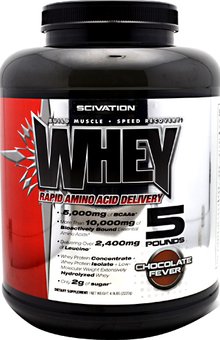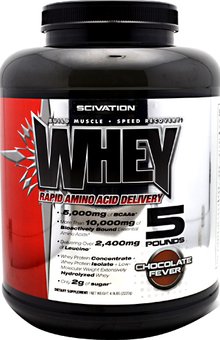 The Last Word in High Quality Muscle-Building Protein
Whey protein is the mother supplement, the base of your anabolic pyramid, the foundation of your muscle-building home. Scivation Whey is a high-quality, no-frills version of this proven performer, which has been shown in repeated clinical tests to enhance recovery and lean mass gains when consumed throughout the day, especially post-workout. Whey is fast-digesting, highly-bioavailable and incredibly convenient.
Rapid Amino Acid Delivery
Speed Recovery*
Build Muscle*
Over 5,000mg of BCAAs
Over 2,400mg of Leucine
Scivation Whey contains a proprietary ratio of fast-absorbing Whey Protein Concentrate, Whey Protein Isolate, and low-molecular weight bioactive protein fractions from Extensively Hydrolyzed Whey to quickly provide your muscles with 21 grams of great tasting, low-carb and low-lactose protein in every delicious serving.
Scivation Whey is loaded with biologically active major and minor protein fractions shown to support muscle mass, immune function & overall health, and speed recovery, as well as increase fat loss when combined with a low carbohydrate diet and rigorous exercise plan.*
With Scivation's industry-revolutionizing practice of subjecting all products to independent third-party audits to guarantee purity, efficacy and great-taste, Scivation Whey should be at the top of your supplement list.
Frequently Asked Questions
Q: What is whey Protein?
A: Whey protein is a complete protein source that is derived from milk. Whey is the soluble protein portion of milk and accounts for approximately 20% of the total protein content. Whey is pleasant tasting even when unflavored and typically mixes well in any liquid. Whey has the highest bioavailability of any protein on the market and is rapidly digested creating a large spike in blood amino acid levels, helping to maximize muscle protein synthesis. In fact, whey has been shown to be superior in increasing muscle protein synthesis when compared to other proteins like casein and soy.*
Q: Who should use whey protein?
A: Whey protein can be used effectively by anyone, male or female, who is looking for a high quality protein supplement and is looking to maximize the anabolic response. It can be used as a high quality supplement to enhance a high-protein diet or it can be used as a substitute for animal proteins for those who may not have the time required to prepare whole food meals.
Q: When's the best time to consume whey protein?
A: Whey can be consumed anytime in order to meet an individual's protein goals for the day. Specifically, whey has been shown to enhance recovery from exercise when consumed immediately post workout.
Q: How much whey should I consume for it to be most effective?
A: Most studies show that consumption of approximately 20-25g of whey protein at a time will maximize muscle protein synthesis in trained or untrained individuals who weight between 150 and 170 pounds. For individuals weighing significantly more than this, more whey is required to achieve an optimal anabolic response. Approximately 0.15g of whey protein per pound of bodyweight at a sitting should be sufficient to maximize post meal anabolism. In a 200 lb person, this would be approximately 30g of whey protein.*
Q: What results will I achieve from using Scivation Whey?
A: Research studies have shown the following benefits from whey protein ingestion
Increased Muscle Protein Synthesis*
Increased Lean Body Mass*
Enhanced Recovery From Exercise*
Enhanced Fat Loss*
Improved Immune function*
Improved Blood Glucose Disposal & Insulin Response*
Q: How fast will I see results from using whey protein?
A: Research indicates that improvements in recovery between exercise sessions may begin immediately when using whey. Long-term body composition improvements will take 12 weeks or longer.
Q: Is whey protein safe?
A: In a massive amount of research studies there have been no documented side effects to whey protein ingestion. In fact, most individuals seem to improve their health (favorable changes blood glucose, insulin, immune function and other markers of general health) while using whey protein. The exception to this would be people who are allergic to whey protein.*
Q: How does whey protein work?
A: Whey protein has been shown to increase muscle protein synthesis and anabolism in greater proportion when compared to other sources of protein. It accomplishes this for two reasons. The first is that whey protein boasts one of the highest leucine contents out of all the supplemental proteins. Leucine is the major amino acid responsible for triggering protein synthesis and the anabolic response to a meal. Whey is approximately 11% leucine, which is almost 50% more than most other sources of protein, such as casein and soy. Secondly, whey protein is digested, absorbed, and assimilated very quickly. This rapid process causes a large increase in blood amino acid levels compared to other protein sources, leading to a greater anabolic response in the muscle.*
Q: How does whey compare to other proteins?
A: Whey is the msucle-building king. Compared to other proteins whey has been shown to increase muscle protein synthesis to a greater degree when equal amounts of each protein source are consumed. Whey protein also has the unique benefit of having a positive impact on the immune system.*
Q: Are there any other products that will help improve the results I achieve when using whey?
A: Whey can be consumed alone to provide a high quality protein source, but can also be consumed with such supplements as creatine monohydrate and beta-alanine in order to enhance performance, recovery, strength, and lean body mass. Whey has no known contraindications with other supplements.*