Warning: This product is not currently available at any store.
Click the button above and PricePlow will email you with updates from Scivation.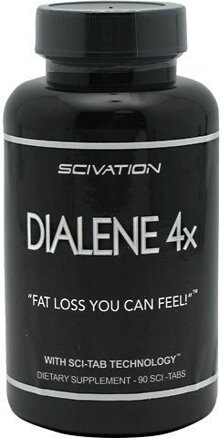 Product Overview
Dialene 4x is the first ever weight management formula with the G5 Fat Incinerating Matrix and the LipidOX Blend. The LipidOX Blend is a breakthrough in healthy weight management utilizing scientifically proven, advanced antioxidants. Dialene 4x utilizes Sci-Tab technology to ensure a controlled release for optimal absorption and assimilation.
"Fat Loss You Can Feel"
Dialene 4x has been reformulated to give you more energy and to help you burn more fat through an advanced method - Fat Burning Antioxidants! This new formulation targets stubborn fat through many different pathways, ensuring that it is burned! The advanced LipidOx blend enhances healthy weight management and is also, well, healthy! Go figure….you can burn fat and enhance your antioxidant profiles at the same time. Sound too good to be true? Stop dreaming because it is true and Dialene 4x is here to set your fat burning furnace on fire!*
Not only does Dialene 4x do this, but it also has other advanced compounds to help enhance energy, mental focus and better yet, fat loss in those stubborn areas like abs for men and hips and thighs for women.*