Quick Links to Best Prices Price History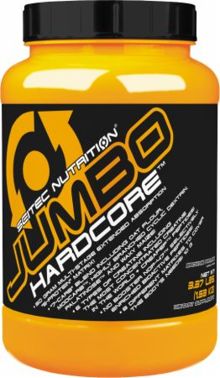 SCITEC Nutrition Jumbo Hardcore
Jumbo Hardcore
Our legendary JUMBO muscle gainer further evolves! The professional level product's new JUMBO HARDCORE version brings improvement to every single detail!*
50g Multi-Stage Extended Absorption 5-Protein Matrix!*
7-Carb Blend Complex Carbohydrate!*
No Booster Bioactive Peptides!*
7–CARB blend complex carbohydrate:
oat flour, ModCarb, Hi-Branched Cyclic Dextrin, long lasting energy from Palatinose + Waxy Maize. Not full of simple sugars like others!*
Extended absorption 5-PROTEIN MATRIX:
Whey Isolate, Micellar Casein, Hydrolyzed Beef Protein Peptides, Rice Protein, Microfiltered Whey!*
6-CREATINE Matrix:
with most concentrated Creatine in the world + insulin stimulating, Creatine utilization enhancing CreaPep Peptides!
AMINO matrixes:
One serving provides a mind blowing 5670 mg Leucine, 2580 mg Isoleucine, 2520 mg Valine, 8250 mg Glutamine and 2390 mg Arginine!*
HEMO-NO MATRIX:
with Arginines & Nitric Oxide (NO) boosting NOP-47 bioactive peptides!*
PERFORMANCE BOOSTER MATRIX:
with Betaine, Beta-Alanine and L-Carnitine.
RECOVERY MATRIX:
helps post-exercise with Vitamin C for the immune system. Vitamin D for the immune system & optimal muscle function. Minerals for normal muscle function & nervous system, energy-yielding metabolism, neurotransmission and for maintenance of bones and teeth. 46 QUALITY & EFFECTIVE active ingredients! JUMBO HARDCORE is massive and can help you become really massive too!*