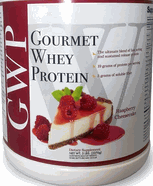 Schwartz Labs Gourmet Whey Protein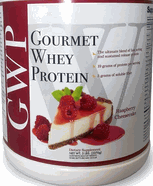 Schwartz Labs Gourmet Whey Protein
DUE TO THE WEIGHT OF THIS PRODUCT, EXTRA SHIPPING CHARGES MAY APPLY.
YOU WILL BE EMAILED A SHIPPING QUOTE AFTER WE RECEIVE YOUR ORDER.

LIMITED SUPPLY!

Please take the time to read our notes and policies regarding clearance items at the top of our Clearance Page.

Gourmet Whey Protein (GWP) by Schwartz Labs features a high quality whey protein powder blend that is available exclusively here at i-Supplements.com.

-- The Best Tasting Raspberry Protein Ever!
-- The ultimate blend of fast acting and sustained release protein
-- 19 Grams of protein per serving
-- 3 Grams of soluble fiber
-- 80 Servings per Container!

How To Use: Gourmet Whey Protein is the perfect protein powder to be implemented within your diet for any of the following situations:

"Balance" Any Meal: Many of us eat cereal for breakfast. Most cereals are primarily carbohydrates. By adding a GWP shake, you have suddenly made your breakfast more balanced and complete. (Hint: Try adding a scoop of GWP to your favorite hot cereal.)

Stimulate Muscle Recovery: Right After Workouts your body goes into a recovery mode in which protein and the associated amino acids are vital. GWP delivers the necessary protein and nutrients to get your muscles driving on the high road of recovery and growth.

Nutritious Protein Boost: GWP stabilizes blood sugar levels, reduces cravings, and boosts metabolism, while maintaining high energy levels. This makes it great as a between-meals snack. Doing this also ensures you continue to give your muscles the protein to further fuel to build muscle.

Maximizing Anabolism Overnight: Taking GWP before bedtime helps prevent the protein breakdown that naturally occurs when we sleep. If your goal is muscle gain, then this is a crucial time to be sure your body has the protein it needs.

Suggested Use: Add one level scoop to 8oz. of water or your favorite beverage. You can use more or less liquid to meet your desired taste and calorie needs. Shake well in a shaker bottle until dissolved or blended.

Start building muscle size and strength with Gourmet Whey Protein (GWP) by Schwartz Labs & other Protein Supplements at i-Supplements.com.

These statements have not been evaluated by the FDA. These products are not intended to diagnose, treat, cure, or prevent any disease.