Warning: This product is not currently available at any store.
Click the button above and PricePlow will email you when the first store has it in stock!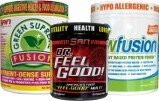 Green Supreme Fusion
Simply put, Green Supreme Fusion is a new and improved concept brought to reality to get you looking better, feeling better, living better — all while saving you more time and more importantly... money! This is all thanks to the advent of 21st Century Science and Nutrition! And the science and technology behind the "more natural" health products just keeps getting better... and better... and BETTER!*
Straight in from the great outdoors, Green Supreme Fusion has a carefully chosen balanced blend of over 30 bottles of more rich, organic herbs, sea algae blends, minerals, whole plant foods, digestive enzymes and much, much more...all combined into one neat, convenient, less-expensive package!
Dr. Feel Good!
Dr. Feel Good combines a potent combination of vitamins a-z, a broad spectrum of minerals, an Antioxidant & Liver Support Matrix and Cognition & "Feel Good" Components. Together, this unprecedented combination of precisely dosed ingredients provide you with vital nutrients and botanicals that support improved health, energy, mood, and focus. Dr. Feel Good also combats stress while working to fight off the "blues" thus supporting a better quality of life. All this in one convenient, cost-effective and easy-to-use formula. It's your life and it's your choice. Choose wisely. Choose Dr. Feel Good! and live your life with great health, vitality, and energy. Sharpen your edge. Get your supply of Dr. Feel Good now! You'll be on your way to victory.*
Raw Fusion
For those who want to be at the top of their game… Each scoop of Raw Fusion contains 21 grams of a custom bio-fermented, allergen, GMO and animal free plant protein fusion designed for the maximum assimilation and absorption in the human body.*
It comes from pea protein isolate, brown rice sprouted and artichoke protein concentrate swirled in the delicious omega fatty acid rich sunflower oil matrix! But the Raw Fusion benefits get even better.*
The Raw Fusion amino acid profile contains over 4,900 mg of BCAA's (Leucine, Isoleucine, Valine) per 1 scoop and mimics that of whey/milk and is rich in Glutamine.
The Raw Fusion patent pending formulation by SAN is free of solvents, radiation, artificial colors, sweeteners or anything created synthetically.
Each and every ingredient is carefully extracted from pure organic raw ingredients that are GMO, herbicide and pesticide FREE.