Warning: This product is not currently available at any store.
Click the button above and PricePlow will email you when the first store has it in stock!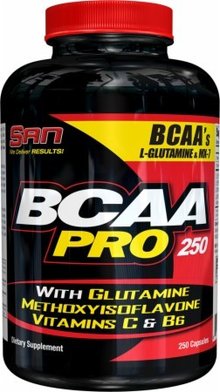 MMA FIGHTER - TEAM SAN
INCREASE PROTEIN SYNTHESIS
SUPPRESS PROTEIN
BREAKDOWN*
BCAA-Pro is a high potency formula containing the Branched Chain Amino Acids L-Leucine, L-Isoleucine, and L-Valine, as well as L-Glutamine the most abundant amino acid found inskeletal muscle tissue. Also incorporated into BCAA-Pro is vitamin C, vitamin B 6 andmethoxyisoflavone.
BCAA's are essential amino acids, meaning they must be obtained through the diet. Athletes and bodybuilders recognize the importance of a diet rich in BCAA's as BCAA's can INCREASE PROTEIN SYNTHESIS and SUPPRESS PROTEIN BREAKDOWN.*
BCAA's are rapidly oxidized during exercise so supplemental intake can play a significant role in lean body mass accrual and muscle preservation.*
Glutamine is added into BCAA-Pro's formulation to work synergistically with the BCAA's at preventing muscle tissue breakdown and to increase muscle cell volume. Additionally, the inclusion of vitamin B6 and vitamin C help assist the absorption of the amino acids into the blood stream.*
Finally, methoxyisoflavone was added as the last ingredient into BCAA-Pro formulation for its nutrient partitioning effects, further PRESERVING MUSCLE MASS.
INCREASE PROTEIN SYNTHESIS*
SUPPRESSES PROTEIN BREAKDOWN*
PRESERVE MUSCLE MASS*
SUPPPORTS SHORTENED RECOVERY TIME FROM WORKOUTS & INCREASED ENDURANCE*