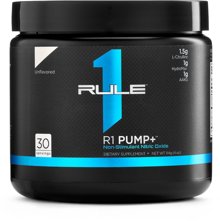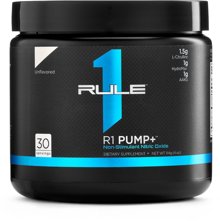 Non-Stimulant Nitric Oxide With 1.5g L-Citrulline & 1g HydroMax!
A great 'pump' is a powerful thing. Physically, you can see the vascularity popping up from under the skin. Physiologically, oxygen rich blood engorges the hard-worked muscles causing them to swell. Psychologically, they're hugely motivating. R1 Pump+ contains a small, but capable, combination of ingredients designed to help potentiate this cascade of events. Just add it to your favorite workout supplement and then add exercise.
ZERO Proprietary Blends
ZERO Sugars
ZERO Fat
ZERO Added Flavors
ZERO Added Colors
ZERO Added sweeteners
R1 PUMP+ BETTER INPUTS:
NON-STIMULANT NITRIC OXIDE
1.5 g l-citrulline
1 g HydroMax
1 g arginine alpha-ketoglutarate (AAKG)
Full panel transparency
Unflavored and unsweetened
Carefully blended and packaged in an NSF GMP facility in the USA
CAN I COMBINE R1 PUMP+ WITH R1 ENERGY+, R1 PRE TRAIN, OR R1 PRE AMINO?
Yes – and doing so is probably synergetic. R1 Pump+ either provides compounds not found in these energizing formulas or delivers higher potencies to help boost the effects. Combining the two couldn't be easier. Simply add a scoop (or two) of R1 Pump+ to your favorite pre-workout. R1 Pump+ is unflavored, so it will take on the taste of whatever you add it to.
WILL TAKING R1 PUMP+ BEFORE NIGHTTIME WORKOUTS AFFECT MY SLEEP?
Exercise temporarily raises your core temperature, which may make it more difficult to fall asleep, but taking R1 Pump+ won't have any added effect. R1 Pump+ is caffeine and stimulant free, so it's suitable for daytime or nighttime workouts.
WHAT IS HYDROMAX?
HydroMax is a hydrating glycerol ingredient. Normally glycerol is a liquid, but HydroMax contains the mineral silica, which enables the formation of a solid material that can be blended into powdered supplement mixes (e.g., pre- or intra-workouts) or even used to manufacture tablets or capsules.
Note: Manufacturers continually change product specifications. While we try our best to keep product descriptions up to date, they do not necessarily reflect the latest information available from the manufacturer. We are not responsible for incorrect or outdated product descriptions and/or images.
FDA: These statements have not been evaluated by the Food and Drug Administration. This product is not intended to diagnose, treat, cure, or prevent any disease.