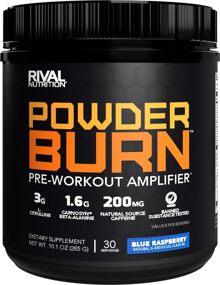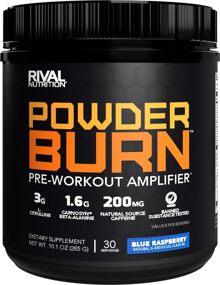 POWDER BURN is a Professional Strength Preworkout supplement.
It is designed to activate muscle fibers to generate high levels of speed and power from the human body while burning fat at a rapid pace. POWDER BURN does not contain any substances banned by enforced Military Legislations or National College Sports associations. It will not produce an Adverse Analytical Finding as defined by the World Anti-Doping Agency (WADA) or the International Olympic Committee (IOC). Warning: Powerful Formula With NEW Innovative Ingredients.


POWDER BURN triggers muscle fibers using NEW innovative compounds
such as Tiger Nut Powder to enhance alertness and enable high levels of intense energy for long periods of time. POWDER BURN speeds the process of fat burning and off-sets the entry of fatigue which improves combative performance.


Supplement Facts:

Serving Size: 1 Scoop
Servings Per Container: 45
Amount Per Serving
Powder Burn Formula 5000 mg
Citrulline Malate Beta Alanine Caffeine USP Red Ginseng Hedera Helix Leaf Tiger Nut Powder
Other Ingredients: Citric Acid, Natural Flavors, Maltodextrin, Ace-K, Beta Carotene, Sucralose
Directions: Dr. Darren Burke (PhD) recommends 1-2 scoops with water 30-60 minutes before INTENSE exercise. For best results use POWDER BURN every day for 8 weeks and combine with exercise 3-5 days per week.
Warning: Consult a physician before using if you are unaware of your current health status, if you have a medical condition, of if you or your family has a medical history of cardiovascular disease, diabetes, psychological disorders, hormonal abnormalities, or if you are taking any prescription drug. Do not exceed maximum daily dosage. Do not use if safety seal is broken. KEEP OUT OF REACH OF CHILDREN.
Note: Manufacturers continually change product specifications. While we try our best to keep product descriptions up to date, they do not necessarily reflect the latest information available from the manufacturer. We are not responsible for incorrect or outdated product descriptions and/or images.

These statements have not been evaluated by the Food and Drug Administration. This product is not intended to diagnose, treat, cure, or prevent any disease.