Quick Links to Best Prices Price History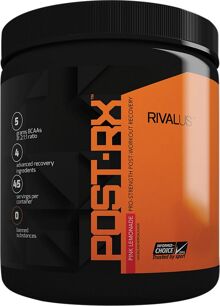 ANTICATABOLIC GROWTH INGREDIENTS withGLUTAMINE, BCAAs, NATURAL ANTI-INFLAMMATORIES

A proper rest and recovery plan is critical for every high performing athlete to maintain optimal performance over an entire season. The ingredients in POST-Rx are a critical component to that overall plan.

Exposing the body to the stress and vigor of high intensity exercise and training will deplete your body of essential fuel required for proper muscle growth and repair. Additionally, this stress may elevate the amount of cortisol produced by the body, a hormone (glucocorticoid) which works much in the opposite way that testosterone does, transforming proteins into glucose.

The ingredients in POST-Rx are a natural way to combat muscle soreness, combat catabolism and maintain maximum performance.