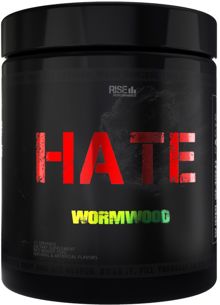 Rise Performance Hate Pre-Workout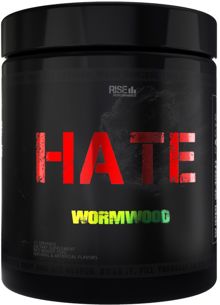 Rise Performance Hate Pre-Workout
While Supplies Last!
They Don't Call It A Deadlift For Nothing. It's Put Up Or Shut Up! Theres Only One Way Out And Its Called Straight F*Cking Hate, Fill Yourself With It!
THIS IS THE LAST STOP. YOUR BACK IS AGAINST THE WALL, YOU'RE ON DEATH GROUND. WRAP YOUR FINGERS AROUND THAT COLD STEAL, FEEL THAT BAR BEND AS YOU TEST IT. THEY DONT CALL IT A DEADLIFT FOR NOTHIN. IT'S PUT UP OR SHUT UP. THE BULLSH*T FILTER. THERES ONLY ONE WAY OUT AND THAT'S THIS THING YOU BOTTLED UP IN THE BACK OF YOUR BRAIN. IT'S CALLED STRAIGHT F*CKING HATE. FILL YOUSELF WITH IT.
HOW TO USE A WORKOUT PRIMER:
Workout Primer - Directions:
Start with 1/2 scoop - 1 scoop to assess tolerance. This isn't a product for you to play with or chug like a pre-workout. Once you have assessed your tolerance sip on 2 scoops for the hour and a half leading up to your workout. This is not for daily use. Use it when you need to destroy weight. Maintain proper hydration before and during training for best results. Do not use on an empty stomach. Pre-Workout meals are critical.
The reason behind the hour and a half consumption time is that HATE Pre-Workout is a heavy formula. You need time to properly absorb the compounds. If you use it correctly.. this will be a workout unlike anything you have experienced.
Citrulline Malate: Cit Mal converts to L-Arginine in the kidneys to increase blood flow. It has also been seen to reduce fatigue, improves endurance, and improves power. Typical dose is less than 6g, hate has 9g.

VASO6: A green tea oligomer.

Carb10: A complex low-glycemic carbohydrate formula. Decreased bloating compared to other available carbohydrate sources. This will provide for more consistent blood sugar levels during your workout. It is not however enough to replace your pre workout meal. Eat to grow, you know the deal.

Glycerol Monostearate: used to hyperhydrate tissue. After all, the pump is made up of blood and hydration. Properly hydrated muscles perform better, period. Don't slack on your water with this product. Feed your pump.

Creatine HCL: You know the deal. Researched, studied, proven. Why HCL? People report less bloating.

L-Glutamine: An essential amino acid. Serves two purposes in hate Pre-Workout. Get a head start in recovering from the task at hand. Second reason is to aid the digestive system.
Acetyl L-Carnitine: or "ALCAR" is a compound that may alleviate the effects of aging and disease on mitochondria, while increasing the mitochondria's ability to burn fat. Also in ramping up mitochondrial capacity, this increases alertness which is why ALCAR is also used to increase neurological performance.

AMINO9: a specific formulated ratio of 9 essential amino acids. High quality aminos to create an anabolic environment to grow some muscle.

ALPHA-GPC: is a cholinergic nootropic that aids in focus, reaction time and brain health but is also shown much promise in amplifying the production of Growth Hormone.

NALT: N-Acetyl L-Tyrosine is another nootropic and also an adaptogen which pairs well with both Dynamine and TeaCrine.

Caffeine Anhydrous: The most common form of caffeine. Longest lasting. Duh.

TeaCrine: Delivers energy, mental clarity, and improved motivation and mood. It does not increase heart rate or blood pressure and is not a stimulant.*

Infinergy: aka Dicaffeine Malate, the malic acid in Infinergy works to buffer the salts in caffeine, allowing for easier digestion whilst also replenishing the energy produced by caffeine, which helps to minimize the dreaded post-caffeine energy 'crash'. In comparison to caffeine anhydrous, Infinergy is a milder form of caffeine that has a longer-lasting stimulatory effect.

Dynamine: aka Methylliberine may amplify feelings of energy, mood and focus by activating dopamine receptors and other key neurotransmitters, inhibiting adenosine receptors, all without elevating heart rate or blood pressure.*

Synephrine: A molecule similar to Ephedrine, Synephrine is a potent stimulant and synergistic with caffeine. It also has a strong affinity towards fat loss.

Caffeine Citrate: The faster acting version of Caffeine, giving you a sharper initial energy spike until the Caffeine Anhydrous, TeaCrine and Dynamine kick in.

Hordenine: N, N-dimethyltyramine has potent adrenergic properties and acts as a stimulant and nootropic with close ties to norepinephrine and epinephrine. It's also a joy with some caffeine.

5-hydroxytryptophan: aka 5-HTP helps to promote serotonin which aids in mood.
Huperzine A: This ingredient inhibits the degradation of Acetylcholine which can result in better contractions and focus.
Note: Manufacturers continually change product specifications. While we try our best to keep product descriptions up to date, they do not necessarily reflect the latest information available from the manufacturer. We are not responsible for incorrect or outdated product descriptions and/or images.