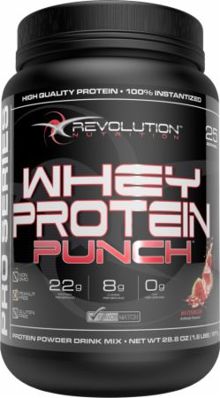 Revolution Nutrition Whey Protein Punch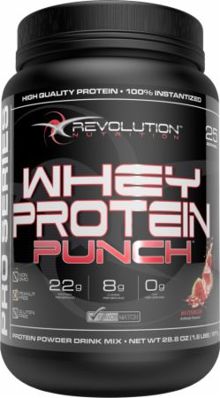 Revolution Nutrition Whey Protein Punch
SO GOOD

, YOU'LL NEVER BELIEVE IT'S

PROTEIN!
Finally, a protein supplement with a Perfect FRUIT JUICE texture!
Yes, you read correctly. WHEY PROTEIN PUNCH, the latest innovation from Revolution Nutrition, is a high quality protein supplement that tastes and feels just like a real fruit juice!
Using the exclusive Flavor Match technology, WHEY PROTEIN PUNCH mixes perfectly with any other Flavor Match product of the same flavor!
Each serving of WHEY PROTEIN PUNCH packs 22g of high quality protein and absolutely no fat! WHEY PROTEIN PUNCH is the perfect choice if you are looking for a light and refreshing protein!
GLUTEN FREE formula!
All flavors of WHEY PROTEIN PUNCH have been carefully formulated with ingredients that do not contain gluten. Revolution Nutrition is proud to offer an alternative to people who are sensitive or intolerant to gluten.
Flavor Match is a specific flavoring technology developed by Revolution Nutrition so you can easily blend your favorite supplements together in as little as water as possible. Just look for this symbol and match your favorite products and flavors for the perfect supplement solution!
The Revolution Nutrition guarantee
All Revolution Nutrition products are manufactured in a state-of-the-art, fully cGMP certified facility. Quality assurance is our top priority and all our products are thoroughly tested and analyzed before leaving our warehouses, this is our commitment to you.