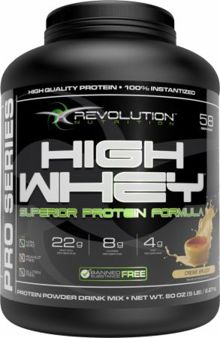 Revolution Nutrition High Whey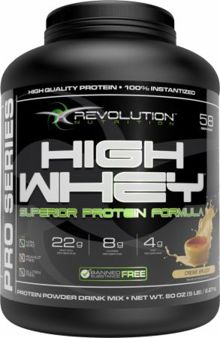 Revolution Nutrition High Whey
Superior Quality
Superior Taste
1
Serving
22g Protein
4.8g BCAAs
10g EAAs
Superior protein formula!
HIGH WHEY is a protein formula that will satisfy all your protein needs! Protein plays a key role in any balanced diet by contributing to the maintenance of the immune system functions and lean muscle mass.*
HIGH WHEY is made exclusively from carefully selected quality ingredients to ensure that you get only the best out of each and every scoop!
22 grams of protein per serving
Each scoop of HIGH WHEY contains 22 grams of protein sourced from premium, high quality cross-flow micro-filtered whey protein concentrate. This formula is also PEANUT-FREE, GLUTEN-FREE and NON-GMO (genetically modified organism). Each serving also contains 10 grams of naturally occuring Essential Amino Acids (EAAs) and 4.8 grams of BCAAs.
100% Instantized and 100% Delicious!
HIGH WHEY is 100% instantized so it can be easily mixed with water, almond milk or the beverage of your choice to create the most delicious protein shake you'll ever have!
Gluten FREE Formula
All flavors of HIGH WHEY have been carefully formulated with ingredients that do not contain gluten. Revolution Nutrition is proud to offer an alternative to people who are sensitive or intolerant to gluten.
The Revolution Nutrition guarantee
All Revolution Nutrition products are manufactured in a state-of-the-art, fully cGMP certified facility. Quality assurance is our top priority and all our products are thoroughly tested and analyzed before leaving our warehouses, this is our commitment to you.