Quick Links to Best Prices Price History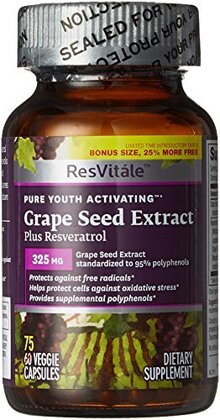 ResVitale ResVitále Grape Seed Extract Plus Resveratrol
Helps repair age-related cell damage and restore youthful DNA*

Boosts energy production in cells*

Age-Revitalizing Fruit Chews

Our Red Wine Vineyards Deliver A Concentration Rich In Polyphenols. Our Exclusive Trans-Resveratrol Helps Trigger Your Natural Age-Defying Defenses And Longevity Genes. Each Chew Is Equal To The Resveratrol Found In 60 Glasses Of Red Wine.

Youth Can Lie Dormant Deep Inside Cells. Resveratrol Helps Revitalize Youthful Dna And Promote Cellular Longevity. Reawaken Youthful Cellular Activity With This Age-Revitalizing Formula.
More