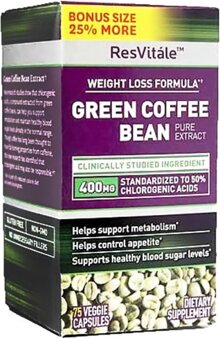 ResVitale Green Coffee Bean Extract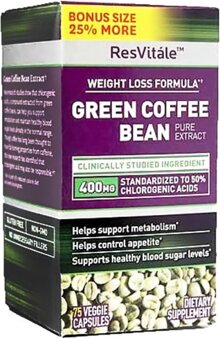 ResVitale Green Coffee Bean Extract
Weight Loss Formula*
Clinically Studied Ingredient

400mg Standardized to 50% Chlorogenic Acids

BONUS SIZE 25% MORE

New research studies show that chlorogenic acids, acompound extracted from green coffee beans, can helpyou support metabolism and maintain healthy bloodsugar levels already in the normal range. Though coffeehas long been thought to have fat-burning propertiesfrom caffeine, this new research has identified thatchlorogenic acid may also be responsible.*

† Use as part of a reduced-calorie diet and exercise program.

Soy free. Gluten free. GMO free.
* These statements have not been evaluated by the Food and Drug Administration. This product is not intended to diagnose, treat, cure, or prevent any disease.